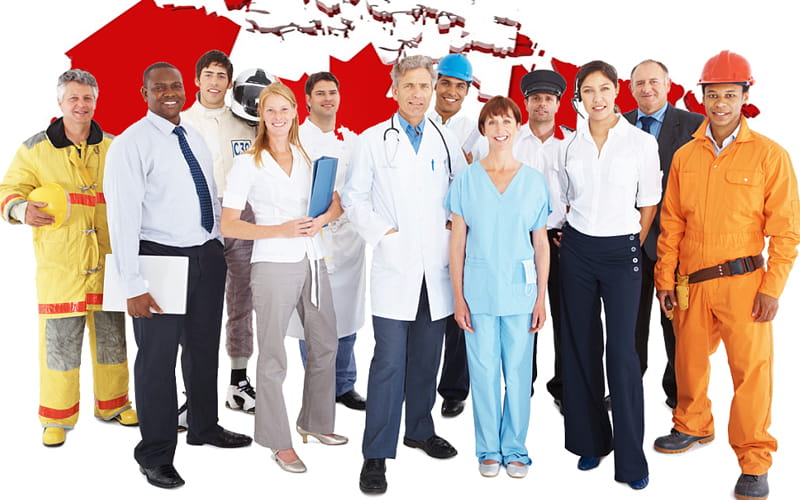 A study report conducted by Ryerson University recommends that more skilled and semi-skilled workers should be granted permanent residency status in Canada. It also adds that the government should also take immediate steps to retain skilled and semi-skilled temporary residents in Canada.
Canada grants more than 350,000 new permanent residency status to immigrants, young professionals and skilled workers every year. Experts say that around two thirds of skilled workers, who receive Canada PR, had lived in Canada as temporary residents.
The federal government of Canada announced that despite COVID-19 pandemic, the country is committed to meet its immigration targets. Canada is planning to grant around 401,000 Permanent Residence visa in 2021, 411,000 in 2022 and 421,000 in 2023.
Canadian government recently announced six new immigration gateways for temporary foreign workers, including for professionals and skilled workers in healthcare, essential services, trucking, cargo and transport business among others. There are revised guidelines for work permit and PR for international graduates and French-speaking immigrants due to COVID 19 related restrictions. Though these immigration programs are for limited time, experts say that such steps are required to boost immigration process.
It is important to note that there are also around 600,000 temporary residents, who come to Canada every year. Most of them, who later apply to secure permanent residency status, work in high-skilled occupations. It is believed that temporary residents in low skilled occupations have less chances to successfully secure permanent residency status.
Why Skilled Workers must Seek Canada Immigration?
The COVID-19 pandemic has highlighted the importance of low-skilled workers to run economy, industries, local labour markets and other sectors efficiently.
The skilled workers are needed at work places like hospitals, travel industry, quick service restaurant business, grocery stores, agriculture and farm work etc. If you are looking for skilled jobs in Canada,then it is a right time to apply.
Demand for semi-skilled and skilled workers is growing every month due to ageing population of Canada. Industries and local labour markets are dependent on skilled and semi-skilled workers.
Experts say that industries and sectors such as commercial transportation, food services, healthcare, farm and agriculture, childcare, family services, building construction and so on will grow in coming years.
This increasing demand for semi-skilled jobs is due to growing population of Canadians who are reaching age of retirement. Therefore, they are neither fit nor willing to do laborious jobs. In fact, in some Canadian provinces, many high-skilled permanent residents are taking up semi-skilled workers jobs due to increasing demand in local labour markets.
Which Immigration Streams are Beneficial to Semi-Skilled Workers?
Atlantic Immigration Pilot Program (AIPP) job offer invites semi-skilled and skilled workers to join Canadian industries and local markets.
In Ontario, the in-demand skills stream provides semi-skilled workers in high-need occupations a platform for Canada's PR status.
British Columbia Provincial Nominee Program (BCPNP) regularly invites semi-skilled workers to apply for provincial nomination for permanent residency status in Canada. Skilled workers are invited through Entry level and semi-skilled worker category.
Agri-food Immigration Pilot provides 2,750 semi-skilled workers in the agriculture and agri-food industries opportunities to secure Canada permanent residency status.
Also Read: Canada Work Permit Visa For Indians
Approved Immigrants Can Travel to Canada
All valid Confirmation of Permanent Residence (COPR) holders can now enter Canada. Some 23,000 COPR holders overseas will now be eligible to complete their landing in Canada, according to news reports.
It is important to note that valid Confirmation of Permanent Residence (COPR) holders can complete their landing in Canada by June 21, 2021. Also, Immigration, Refugees and Citizenship Canada (IRCC) is working with expired COPR holders to reissue new COPRs so that they are able to join workforce, industries and local labour markets.
Note that a COPR is issued to eligible candidates, who have been approved by IRCC to enter Canada on work permit or PR basis. This means that candidates meet IRCC's program criteria, eligibility requirements, paid their fees, and cleared health, security, and other necessary tests. With a COPR, candidates can migrate to Canada to build bright and stable career.
The Canadian government suggests that candidates with an expired COPR should not book their flight or travel to Canada until IRCC issues a new COPR to them. It is important to note that validity of COPR is one year. Many candidates could not travel to Canada due to COVID 19 travel restrictions. Since their COPR has expired in last one year, the IRCC is taking up their cases to issue fresh COPR so that they are able to travel to Canada. These candidates include skilled and semi-skilled workers.