Skilled Work Visa For Canada
The 'land of opportunities' – Canada – welcomes thousands of foreign skilled workers, professionals and immigrants to fulfill requirements of skilled jobs in Canada. The growth of nation's economy depends on foreign skilled workers. Read on to know more about gaining skilled jobs in Canada.
The Federal Skilled Worker Program (FSWP) allows foreign skilled workers having required academic credentials, relevant work experience, IELTS score, sufficient funds and willingness to work and stay in Canada to join different domains and industries that provide skilled jobs in Canada. The government also grants Canada Permanent Residence to candidates after working there for certain period.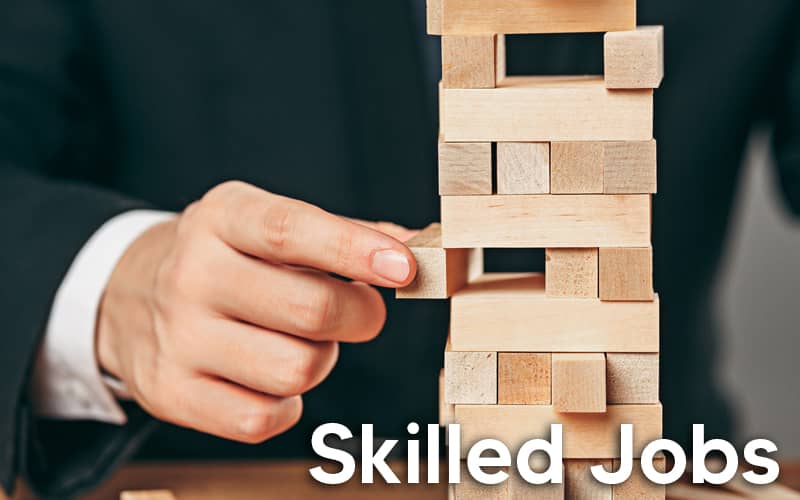 Since January 2015 all applications for the FSWP are routed through Express Entry program. Candidates must complete an online profile, and submit and expression of interest (EOI) before applying for their visa.
The eligible candidates under the Express Entry program are allowed to work anywhere in Canada after receiving Invitation To Apply (ITA) and secure skilled jobs in Canada. Candidates gain CRS points under FSWP based on these factors:
Education
Canadian Language Benchmark or IELTS score
Age
Relevant work experience
Valid job offer supported by LMIA or pre-approved LMIA
Sufficient funds
Alternatively, each Canadian province allows candidates under their own skilled worker programs to work and stay in a particular province in Canada. Candidates can either apply for these immigration program streams directly or enter the Express Entry system and submit an Expression of Interest (EOI) to create a Provincial Nominee Program (PNP) profile. It is important to note that all PNP streams do not work through Express Entry stream, but having PNP increases Comprehensive Ranking System (CRS) points in Express Entry pool.
The PNP requires relevant education, skills, work experience and language proficiency. Eligible candidates are then issued a nomination and ITA for PR with the federal government. Experts suggest candidates to update profile regularly to improve CRS points. If candidates' score is high enough and their profile is withdrawn from the Express Entry pool, they receive Invitation to Apply (ITA) for Canada PR. Such applications can be processed in fast track mode and requires only six months for processing.
In order to get skilled jobs in Canada, candidates must fulfil eligibility criteria of occupations mentioned in National Occupational Classification (NOC) list. Only qualified candidates are able to get skilled jobs in Canada.
Developed by Employment and Social Development Canada (ESDC), to categorise different occupations, the NOC is divided into five groups:
Skill Type O – Management Occupations
Skill Type A – Professional Occupations
Skill Type B – technical, skilled trades and paraprofessional occupations
Skill Type C – Jobs related to intermediate level, clerical or supportive functions
Skill Type D – Jobs related to elemental sales or service and primary labourer occupations
Who Is A Skilled Worker in Canada?
Skilled workers are employees having specific knowledge, training and experience and are able to work efficiently if they receive an opportunity in Canada as a skilled worker. The skilled worker should have relevant work experience in order to secure Canada work permit under skilled job.
What Is Canada Immigration Skilled Workers List?
The Canada Immigration Skilled Workers List mentioned job profiles and occupations available in Canada for candidates looking for skilled jobs in Canada. It is also called National Occupational Classification (NOC) list that classify or categorise jobs and occupations available in Canada for skilled workers. Jobs and occupations are classified on basis of:
job duties
work or occupation done by candidates
What Kind Of Work Experience Skilled Workers Need?
Relevant work experience that suits Skill Type 0, Skill Level A or Skill Level B of NOC
The work experience must be full time and paid (candidate must be on company's pay rolls)
Full-time means candidate must be working in an organisation in last ten years for at least 30 hours per week
Express Entry: Eligible Federal Skilled Worker Occupations
Legislators
Senior government managers and officials
Senior managers in financial, business services and communications
Senior managers in health, social and community service, education and membership organizations.
How To Apply in FSWP?
Eligible candidates under FSWP category can submit their profile to Express Entry pool, which is an online application system for economic immigration categories, including FSWP. Candidates can get more information from reliable immigration consultants or from website of Immigration, Refugees and Citizenship Canada (IRCC).
Which Industrial Sector Provide Skilled Worker Jobs In Canada?
Retail trade sector had the highest share of total employment – The retail trade sector ranked first among all industrial sectors in terms of giving employment. This sector provided jobs to 1,907,605 workers (2011).
Health care and social assistance sector – These sectors provided jobs to 1,886,980 workers.
Manufacturing sector – It gave employment to 1,525,400 workers in Canada.
Educational services sector and public administration sector – These sectors provided jobs to 1,247,050 and 1,212,070 workers respectively.
(source – Statistics Canada — https://www12.statcan.gc.ca/nhs-enm/2011/as-sa/99-012-x/99-012-x2011002-eng.cfm)
According to Statistic Canada, women are majorly employed in sales and service occupations (27.1%); business, finance and administration occupations (24.6%); and education, law and social, community and government services related occupations (16.8%). Men were employed in trades, transport, trucking and equipment operators and related occupations (25.5%); sales and service occupations (18.7%); and management occupations (13.9%).
The most common occupations for men, particularly those seeking Canada skilled work visa, are retail salesperson and truck driver. Among the detailed occupations, the most common occupation for men was retail salesperson followed by transport truck driver (accounting for 3.3% and 2.9% respectively of all employed men in Canada).
Provinces that Offer Work Visa for Skilled Jobs in Canada
Nova Scotia
Manitoba
Alberta
British Columbia
Newfoundland and Labrador
Ontario
New Brunswick
Saskatchewan
Prince Edward Island
Yukon
Northwest Territories
Are Skilled Jobs In Canada Available Amidst Global Pandemic?
Owing to ageing population and low birth rate in Canada, the country's economy is dependent on foreign skilled workers to run industries and other domains effectively. Despite COVID 19 pandemic, Canada is welcoming immigrants, especially truck drivers jobs that has been listed as 'Essential Services'.
According to news sources, the current trends show that Canada's immigration policies are largely proactive in nature and the country welcomes skilled workers to fill the vacancies in various industries and domains. It shows that the country has high hopes from immigrants and foreign skilled workers. That's why employers are offering Canada skilled worker jobs to many eligible candidates having relevant work experience, academic credentials and language proficiency.
Which Jobs Are Available Under Skilled Work Visa in Canada?
According to the job groups in NOC, below-mentioned jobs are available under skilled work visa in Canada:
Skill Type 0 (zero): management jobs such as – restaurant managers, mine managers, shore captains (fishing)
Skill Level A: jobs that require a professional degree from a recognised university – doctors, dentists, architects
Skill Level B: technical jobs and skilled trades that require diploma certificate or training as an apprentice supported by relevant work experience like – chefs, plumbers, electricians
Skill Level C: jobs that require intermediate/high school knowledge and supported by relevant work experience like – truck drivers, food and beverage servers
Skill Level D: labour jobs that simply require on-the-job training like – fruit pickers, cleaning staff, oil field workers
Experts suggest that to achieve their dreams and get Canada immigration as a skilled worker, candidates must follow guidance of immigration consultant having proven track records like Hire Indians. The consultant support candidates at every step – evaluating their eligibility, suggesting right immigration stream, documentation and co-ordination with authorities. It saves time, money and resources of candidates and gives them assured returns in terms securing Canada work visa / skilled jobs in hassle-free manner.
Also Read:
LMIA Job Offer
AIPP Job Offer