Canada LMIA Job Offer
The Labour Market Impact Assessment (LMIA) is a legal document secured by a Canadian employer, who is willing to hire a foreign skilled workers to meet requirements of labour market and to fill vacant positions in different industries and domains. LMIA or LMIA jobs ( work visa applications) are supported by valid documents, including submission by Canadian employer to Employment and Social Development Canada (ESDC) to seek permission to hire foreign skilled worker. The employers offering LMIA approved jobs must have been regular taxpayer in Canada. Also, the occupation or job profile selected by the candidate should be listed in the National Occupation Classification (NOC) list. Generally, Canadian employers and candidates need a copy of LMIA to support job offers to expedite Express Entry process. In other words, a valid job offer must be supported by a Labour Market Impact Assessment (LMIA), hence such jobs are called LMIA approved jobs.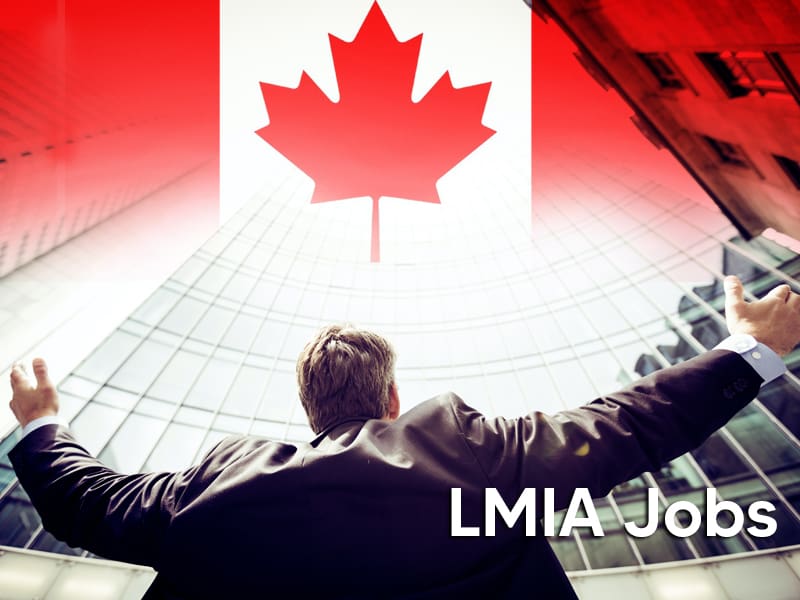 In Express Entry pool, a valid job offer from recognised Canadian employers can help gaining additional points in Comprehensive Ranking System (CRS) scale, thus making candidate eligible to migrate to Canada through official channel.
In order to secure LMIA job offers, candidates need to qualify eligibility criteria.
Advantages of LMIA
The Labour Market Impact Assessment is a testing mechanism started by Canadian government to allow Canadian employers to hire foreign skilled workers to work in specific domain. In order to get LMIA and seeking right candidate for LMIA jobs the Canadian employers should advertise the vacancies or vacant positions in local newspapers, job boards such as Canadian Job Bank for at least four weeks. If the employer fails to find a suitable or right candidate in Canada to fill the vacancies after advertising extensively, then they can apply in Employment and Social Development Canada (ESDC) to get a positive LMIA to hire skilled foreign workers. ESDC scans all LMIAs applications to examine whether an LMIA is positive or negative, or in simple terms what impact hiring would have on economy.
A positive LMIA means that hiring a foreign worker will have a positive effect on the Canadian labour market and economy. On the other hand, a negative LMIA shows that hiring foreign skilled workers will create a negative impact on country's economy and employment market. Except charitable and religious work, LMIA (Labour Market Impact Assessment) certificate is a necessary document to secure Canada work permit.
A positive LMIA undoubtedly strengthens applicant's position in Express Entry pool. It surely improves the score on CRS point scale.
In a nutshell, LMIA jobs are considered secure and sustainable since they are offered by Canadian employers, who fulfil all compliance process, rules and regulations suggested by the government.
A Positive LMIA in the Name of Candidate also Mentions Below Mentioned Aspects:
Name of specific employer candidates can work for
Nature of employment and title or designation offered to candidate
Duration of work and timings of work assignment on daily basis
Job location
Salary to be drawn by candidate (monthly/annually)
Incentives or perks, if applicable
Eligibility Criteria to Get LMIA Approved Jobs in Canada from India
In order to secure LMIA work visa or LMIA jobs in Canada, the interested candidates must fulfil eligibility criteria. The minimum requirement to secure LMIA job offers is –
Educational Qualification – Class 12 (minimum)
Work Experience and Training – At least two years of relevant work experience
Canadian Language Benchmark (CLB) – 5 bands in each module (in most of the immigration programs)
LMIA-exempt Job Offers
In some cases, Canadian employers are exempted from securing LMIA to hire foreign skilled workers. Three broad categories of LMIA-exempted job offers are –
Exemptions through international trade agreements, such as NAFTA
Exemptions through agreements between the Canadian federal government and provincial governments
Exemptions due to Canadian interests, such as intra company transfer
To know more about LMIA-exemptions, candidates are advised to consult guidelines laid out by Immigration, Refugees and Citizenship Canada. Candidates wishing to claim points for an LMIA-exempt job offer on Express Entry profile must prove that the LMIA job offer fulfils the exemption criteria.
Contact Hire Indians Recruitment Services for Pre-approved LMIA Jobs
Hire Indians Recruitment Services is one of the leading immigration consultants having specialisation in Work Permit and facilitating pre-approved LMIA. The consultant assures interested candidates helping them to choose right immigration pathway for them and support them with immigration process. Our clients, who secured LMIA work visa / job in Canada with our support and assistance, are a testimony of our sincere hard work and dedication towards helping applicants to achieve their dreams and build a bright future.
Also Read:
AIPP Job Offer
Skilled Jobs in Canada