Ontario Immigrant Nominee Program 2021
Canada's most populous province is an ideal gateway to immigration aspirants, particularly those seeking to carve career in Information and Communications Technology (ICT). Applicants, who possess right skill set and fulfil demands of employers, can apply through Ontario Immigrant Nominee Program (OINP) or Ontario Provincial Nominee Program (OPNP). Canada's capital city, Ottawa, and its business and financial bedrock, Toronto, are located in Ontario province. The Ontario Immigration Program is managed by the Ontario provincial authorities with the help of Federal Government of Canada through Immigration, Refugees and Citizenship Canada (IRCC).
Key Highlights of Ontario Immigrant Nominee Program (OINP)
Ontario is home of 40% (approximately) Canadians
The OINP Canada is designed and framed to meet needs of provincial Canadian employers, industries and labour market
It nominates candidates having right skill set and those, who are willing to work and settle in Canada
Ample opportunities and growth for interested candidates wishing to carve career in Quick Service Restaurants, ICT, truck driving, farming, nursing, heavy equipment operation, general administration, retail, sales and marketing and so on
Applications are processed on fast track mode if applicants fulfill all eligibility criteria
After securing nomination certificate candidates can apply for Canada Permanent Residency status
The Ontario nominee program certificate also helps candidates to boost CRS score in Express Entry pool (if they have profile in the Express Entry system)

What is Ontario Immigrant Nominee Program or Ontario Provincial Nominee Program?
The provincial economic immigration program, the Ontario Immigrant Nominee Program (OINP) works in partnership with Immigration, Refugees and Citizenship Canada (IRCC), Government of Canada. It is a collection of immigration pathways that welcome skilled workers, immigrants, professionals, international students, businessmen and entrepreneur to secure Canada permanent residency status. The nominee program for Ontario is specifically designed and framed to welcome skilled workers, immigrants and professionals to join various industries and domains in order to fulfil demands of labour markets. The Ontario immigration program also encourages entrepreneurs, businessmen and investors to contribute towards the provincial economy, growth and development. Foreign skilled workers, international students and others with the education, right skill set, relevant work experience and language skills can apply to the Ontario nominee program for nomination.
It is important to note that the OINP selects and nominates candidates for permanent residence status, who have required education, skills and previous experience required to enhance Ontario's economy. Also, the IRCC makes the final decision regarding permanent residency status.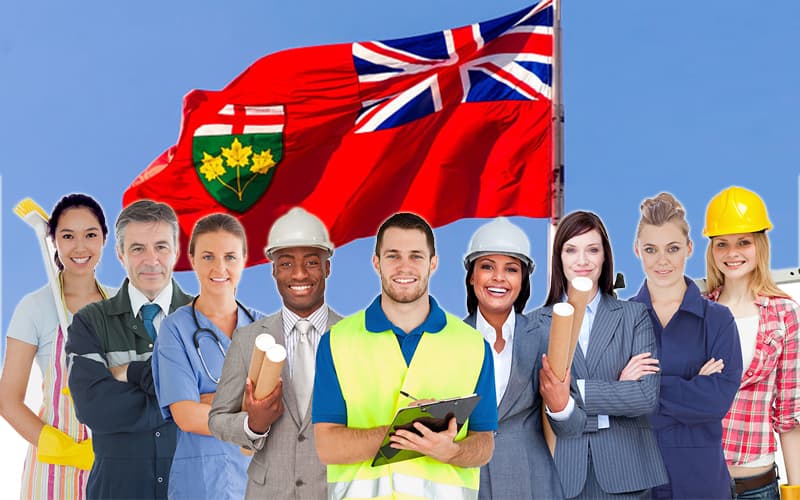 Young professionals, skilled workers and subject experts get ample opportunities in various industries (or in-demand occupations) in Ontario such as –
Information and Communication Technology (ICT)
Quick Service Restaurant
Agriculture
Trucking
Construction
Heavy equipment operators
Healthcare
Nursing
General administration
Retail
Business management
Advertising and marketing
Finance
Book-keeping
Start up
Entrepreneurs
The Ontario nominee program or OINP has easy to follow steps and is kept on fast track mode, if the applicants meet all eligibility criteria of immigration process.
The OINP offers a wide range of job profiles that cater to requirements of labour market, industries and fulfil employment opportunities in the province.
Being a hub of Information and Communications Technology (ICT), the immigration seekers strive to develop career in Artificial Intelligence, Machine Learning, Internet of Things, and modern day technology through OINP.
Employers in Ontario directly recruit ideal candidates through Ontario immigrant nominee program (OINP). The eligible candidates get a nomination certificate from Ontario province that further makes them eligible to apply for Canadian Permanent Residency (PR) status.
Key Facts About OINP:
Ontario issued as many as 7819 nominations by December 10, 2020
In November, the province received an additional 400 nominations through an in-year reallocation and 50 nominations for temporary foreign workers in intermediate skilled occupations (NOC Skill Level C). It shows that Ontario immigrant nominee program is one of the sought after immigration gateways in Canada.
It is important to note that eligible candidates must apply to Immigration, Refugees and Citizenship Canada (IRCC) after receiving nomination certificate under Ontario nominee program.
Eligibility for OINP Canada
Secondary level education (Class 12)
Relevant work experience of at least two years
Language proficiency or minimum five bands each in Reading, Writing, Speaking and Listening in IELTS (English proficiency test)
License proof of professional operation in Ontario
Sufficient funds
CRS score of 470 or above
Categories under OINP
The OINP has six pathways in order to be eligible to work and stay in Ontario. The prominent pathways under Ontario immigration program are –
General Category – It is the most popular gateway under OINP. Through this visa stream, designated employers hire professionals and skilled workers for jobs that fall under NOC 0, A or B level. For this program, both employer and applicants must submit an application after fulfilling the eligibility criteria.
International Students Category – This category is apt for international students and young graduates seeking to work and stay in Ontario and nominate themselves for a Canada PR through OINP. Please note that the prospective candidates must have completed education from recognized universities and academic institutes in Ontario. This category has a sub-stream viz International Ph.D. Students Stream. Applicants must submit visa applocations within two years after receiving Ph.D. certificate.
Human Capital Priorities Stream – This gateway selects candidates whose applications are aligned with Express Entry pool. Potential applicants are nominated on basis of core human capital factors such as age, academic credentials, relevant work experience and fulfillment of demands of Ontario's labour market stream. Please note that candidates have to apply through the Express Entry portal whereas in General Category candidates don't need to apply through Express Entry stream.
Ontario Corporate Stream – Started in 2015, this stream serves international corporate seeking to expand business in Ontario. The international corporate can either buy, or take over an existing business entity or corporation, or set up a new one in Ontario. This stream is considered the fastest mode for owners of corporate entities to secure Canada Permanent Residence (PR).
Ontario Entrepreneur Stream – his program replaced OINP Investor stream in 2015. Under this stream, immigration seekers must buy an existing business entity or establish a new business in Ontario. Please note that if the business is located in Greater Toronto Area (GTA), applicants must invest at least CAD 1,000,000 except business related to ICT or digital media. Also, the business must generate at least 2 permanent full-time jobs for Canadian citizens or permanent residents within 24 months and applicants must have prior experience of at least 3 years in supervisory roles.
French-Speaking Skilled Worker Stream – This stream offer opportunities to candidates who are proficient in French language. Prospective candidates can apply for OINP nomination through this stream after fulfilling all eligibility criteria of Canada Express Entry Program.
OINP Application Procedure
Candidates must create a valid profile in Immigration, Refugees and Citizenship Canada's (IRCC's) Express Entry system in order to receive a Notification of Interest (NOI) from Ontario province
Later, eligible candidates can apply online to be nominated by the Ontario government for Permanent Residence
Owners of business entities and international graduates can apply directly to the province
Candidates, who meet all eligibility criteria can submit application any time in the year. The visa applications are processed on a first-come, first-served basis by the authorities. While applying online, the candidates must keep all supporting documents ready in order to upload in the portal. Incomplete applications invite rejection and application fee is refundable within specific time frame.
Candidates are supposed to submit application within 45 calendar days after receiving Nomination of Interest (NOI) from Ontario province. The provincial authorities inform selected candidates about provincial nomination through One-Key account in the e-Filing Portal.
What is the minimum CRS score for OINP Canada?
Interested candidates should know that the Express Entry aligned streams are known to help candidates gain additional 600 points on Comprehensive Ranking System (CRS). The Express Entry synced profiles have fast processing of applications since the draws are conducted on regular basis. The in-demand occupation immigration category depends on the availability of skills and jobs available in the province, hence intake of immigrants as well as processing of applications in not sure.
The three Express Entry aligned streams are:
Human Capital Priorities Stream
French-Speaking Skilled Worker Stream
Skilled Trades Stream
Candidates having online applications lying in Express Entry pool can receive 600 extra CRS points after securing OINP provincial nomination. Hence, it is the surest way to secure Canada permanent residency status.
What Is The Processing Time Of Ontario Nominee Program?
The Immigration, Refugees and Citizenship Canada (IRCC) allocates specific number of nominations to the province every year under Ontario immigrant nominee program (OINP).
It is important to note that the provincial nomination certificate is generated in six to nine months under OINP, if the candidates fulfil all eligibility criteria. However, the processing time of nomination certificate may extend depending on credentials and required details of candidates, case file and documents submitted by candidates.
Also, the application processing times varies depending on the immigration stream. Please note that applications that require more information or clarification by the authorities may take longer to process (expedite).
Why Us?
A trusted Canada immigration consultant, Hire Indians, evaluates applications of candidates' from professional and personal perspective and guides them according to their education, skills set and career goals. It always suggests the best immigration pathways that suit dreams of candidates. Since its inception, we are providing right guidance and suggestions to skilled workers and trained professionals on Ontario Immigrant Nominee Program and ways to improve CRS points in the Express Entry pool. Working on the motto 'help people live good life', Hire Indians also facilitates regular updates and trends on OINP to interested candidates and support them to attain a promising career in Canada. Contact us now!