Student Visa to Study in Germany

About Germany
Located in central and western Europe, Germany is the second largest populated country in Europe after Russia. Its national capital is Berlin and the financial nerve centre is Frankfurt. The official name of Germany is 'the Federal Republic of Germany'. Germany is surrounded by Baltic and North Seas in its north, while it is surrounded by the High Rhine and the Alps Lake Constance in its south. Studying and living in Germany entails experiencing different cultures since the country has many ethnic groups like Germans, Turks, West Asians, Americans, Arabs, Africans and other Europeans. Most of the people in Germany believe in Christianity. The official language of Germany is German. However, the international students, who wish to pursue higher studies in Germany, should not worry since the academic institutes and universities have English as medium of instruction. Germany is also known to be a popular tourist spot due to various scenic places and locations. The currency of Germany is Euro. The climatic condition of Germany is moderate, which means its neither too hot nor too cold. It is surrounded by countries like Poland, Austria, Denmark, Switzerland, France, the Netherlands, Belgium and the Czech Republic.
From economy's point of view, Germany is the world's fourth largest economy by nominal GDP and it has been ranked as the fifth largest economy in the world by GDP (PPP). It is considered a robust and stable economy in European continent. The service sectors contribute a lot towards the country's economy. In fact, the service sector provides 70 per cent contribution to the country's economy. In terms of export and import of goods in the global market, Germany has been ranked third largest in the world as an exporter and importer of goods.
As a well-developed country and economy, Germany supports its citizens as well as assists other nations in their endeavours. The academic front also presents a bright picture of Germany. The academic institutes, universities and research wings provide a secure and better environment for higher studies in Germany. Moreover, Germany is known for providing tuition-free education in its universities. This attracts many international students, who try to secure seats in German universities and academic institutes of repute.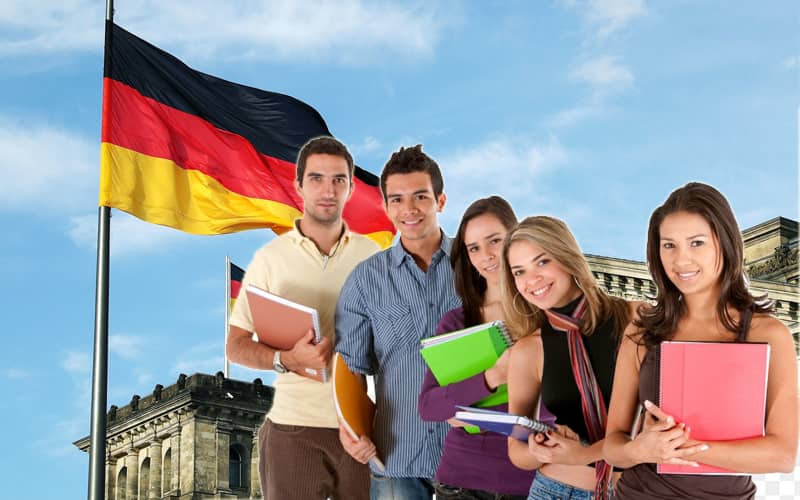 Why Secure Germany Student Visa?
Owing to its robust and inclusive education system, Germany has become number one choice of many international students to pursue higher studies. Besides great academic experience and degree, Germany also offers various other experiences and benefits to foreign students, which makes it one of the best study destinations. Read on to know why international students should pursue higher studies in Germany and should secure Germany study visa.
Availability of Numerous Courses – The universities in Germany offer a wide range of courses to international students. These courses are available at all levels such as bachelor's degree courses and master's degree courses. There are many degree courses as well which can be studied in universities in Germany. Interested students can pursue specialization courses, certificate courses and diploma courses in academic institutes in Germany. Experts advise that international students, willing to study specific course, can follow specialization courses in Germany. An array of academic courses offered by universities encourages many to secure student visa to study in Germany.
Better Future Prospects – Studying in reputed universities in Germany opens the gateway for many professional opportunities in top organizations in the world. After completing degree courses or diploma courses, students can apply in top MNCs across the globe. The degree and certificates awarded by universities in Germany are well recognised and accepted in all major countries. This enhances students' prospects to apply for different jobs in organizations spread across the world. This not only helps them to earn a decent salary but also provides them good exposure for growth and sustenance. Therefore, Germany student visa helps students to carve bright future.
Affordable Tuition Fees – The universities in Germany charge very low tuition fees from international students. This implies that international students receive education free of cost compared to other countries. Moreover, the government of Germany funds some universities in Germany and in turn these universities impart education free of cost to its students. This measure helps many students pursuing bachelor's degree course in Germany to receive education without paying any tuition fees. However, when it comes to master's degree program, the universities charge nominal tuition fees from its students. So, in terms of affordability of tuition fees, Germany is a perfect country for higher studies.
Beautiful places to explore – Germany is known for its beautiful cities, scenic locations and tourist destinations. Pursuing studies in Germany provides opportunity to international students to visit and explore these places. Studying in Germany gives a platform to international students to learn about beautiful places and cities in Germany s well as other neighbouring countries.
Part Time Work Opportunity – There is no denial that studying in international universities or abroad is really expensive and requires funds. However, countries like Germany offer various reasons to pursue higher studies without feeling financial burden. International students are allowed to work along with studies in Germany. They are allowed to work for 20 hours every week, or 120 days of full-time work in a year or 240 days part-time work in a year. This helps them to raise funds for education and in some cases repay education loans. International students can also explore internship opportunities in some good organisations owing to tie ups of some German universities with top industries and MNCs. Please make a note that these internship opportunities are of different nature, some are paid while others are not paid ones and simply offer work experience certificates.
Low Cost of Living – When it comes to securing admission in any of the European universities, students prefer Germany over universities in the United Kingdom. Both the countries offer ideal opportunities to students willing to pursue higher studies. Germany has its advantage though due to its low cost of living. Hence, Germany is preferred by many international students. They can easily afford cost of accommodation, food, other expenses and so on. These expenses are at a higher end in the UK. Being a non-European resident also makes a difference in Germany since living expenses for them are quite low compared to other countries in Europe.
Explore Europe on Germany Student Visa – International students can explore all 26 European countries during semester breaks or during vacation period. The beautiful European countries are well connected and are located on train routes. People can easily visit Amsterdam, Paris, UK, Rome, Barcelona, and other European countries by boarding a train. This helps students to know more about other European countries, culture, language, literature, people, food and places.
Job Opportunities in Germany – International students can explore job opportunities in Germany after completing studies. There is a provision of getting Germany student visa extended for a few months in order to work in the country. Many universities in Germany also have tie-ups with top industries, MNCs and organisations. This makes it easier for international students to explore job opportunities in relevant sectors and industries after completing studies. Germany has some top organizations which offer brilliant opportunities to meritorious and talented graduates. International students can carve sustainable career and bright future in Germany. Clearly, candidates, who are willing to secure student visa for studying in Germany, have many options to create bright and secure career.
Post Study Work Visa Germany – The Post Study Work Visa helps international students to secure job opportunities in relevant industries and sectors after completing studies. The international students or non-European residents can apply for Germany Post Study Work Visa on completing of academic programs. They can get extension of 18 months to stay and work in Germany. In order to secure Post Study Work Visa, international students need to fulfil eligibility criteria. Interested students must go through these criteria before applying for visa. Also, once fresh graduates start working in Germany, they are allowed to apply for permanent work permit as well. Therefore, post study work visa is an added feature of Germany study visa.
Available Programs
Since German universities offer an array of courses and programs interested students should be well informed about these academic disciplines. It is important to note that courses and duration may vary in different streams.
Short Term Courses: The short-term courses in German universities include both full time and part time diploma courses as well as certificate courses. The duration of diploma courses in different disciplines is one to two years, while one can pursue certificate courses (mostly vocational courses) in six months to one year.
Bachelor's Courses: The bachelor's degree courses offered by universities in Germany include ordinary undergraduate degree courses, specialised degree courses and dual or joint bachelor's degree courses. The duration of these courses is three to four years (for some courses).
Postgraduate Courses: The postgraduate or master's degree courses include specialization or study of specific courses in different disciplines. These courses should be completed in two years. However, if someone is pursuing research degree courses, then the duration to complete the course is three years.
Study Visa for Germany
The country grants student visa only to interested candidates, who wish to pursue course that has duration of at least 90 days. Interested students must have sufficient funds or resources for sustenance in Germany during this duration.
Mandatory Documents for Germany Study Visa
Valid passport
Application form
Self declaration verifying authenticity of details and credentials
Cover letter
Letter of Admission issued by a University in Germany
Academic certificates
Language proficiency (English language proficiency test score)
Enough funds
Passport size photographs of students
Germany Study Visa Processing Time
The German student visa processing time is usually around 25 days. Interested students should apply at least three months in advance before the start of the academic session/course in German university. Candidates should get in touch with local German embassy or consulate in the country of residence. It is important to note that all candidates should be physically present at the German Embassy at the time of filing Germany study visa application.
Popular Industries
The industries and manufacturing set ups in any country contribute a lot towards its economic growth and development. These industries and manufacturing sectors also help in generating many job opportunities every year and keep the percentage of employment above certain level. Since Germany's economy is considered to be the fifth largest by its GDP and is one of the most stable economies in Europe, it not only supports German citizens, but it also plays vital role in development of Europe. Among the most popular industries in Germany, the automobile sector tops the list. This gives rise to various opportunities in related fields and allied services. Lets quickly glance through popular industries in Germany. The most popular industries in Germany are –
Machinery, Automotive, and Aviation Industry
Chemical and Medical Industry
Consumer and Service Industries
Electronics and ICT Industry
Energy and Environmental Technology Industry
Mittelstand Industries
It shows that several thriving business and industries are making huge profits and generate employment every year to work efficiently. These popular industries in Germany also provide opportunities to international students studying in Germany.
Eligibility for Studying in Germany
Interested students planning to complete higher studies from Germany should know about eligibility criteria in German education system in order to secure admission in German universities. Read on to get familiar with few eligibility criteria which every international or non-European student need to fulfil in order to study in Germany colleges.
English Language: Since the medium of instruction of different courses is English, interested students should have good command over English language. In order to prove this they must gain good score in English proficiency tests such as Test of English as a Foreign Language (TOEFL) or International English Language Testing System (IELTS). The universities mention the score they require in TOEFL or IELTS test. Interested students having score above the qualifying or benchmark score can take admission in that particular university. It is suggested to students to cross check qualifying or benchmark scores for IELTS and TOEFL with specific university. Interested students planning to pursue any course in German Language need to qualify entrance test in the same language in order to secure admission. These entrance tests include TestDAF and DSH.
Academics: It is important to note that eligibility criteria vary for different courses like Undergraduate degree courses (First Level course), Master's degree courses (Second Level Course), and Doctoral degree courses.
Undergraduate or bachelor's degree – In German universities only students, who have completed 13 years of school education, can take admission. So, international students have to do a 1-year bridge program (those who have completed 12 years of formal school education) in order to be eligible for admission courses in to German universities. Interested students also need to appear in assessment test to secure admission in German universities for Undergraduate Degree courses.
Master's Degree – In order to secure admission to the Master's degree courses in German universities, interested students need to qualify admission tests. These entrance tests are conducted by some universities in Germany. Interested international students must have completed Undergraduate's degree course in the same subject or discipline.
Health Insurance: It is important to note that health insurance is a must for international students interested to pursue higher education in German universities. Applicants need to present health insurance documents during application process to secure admission to courses in German universities. Other documents that need to be submitted include attested mark sheets and transcripts. These details are common eligibility criteria. Students are advised to get in touch with specific university to know about eligibility criteria for particular course and steam.
Note- The eligibility criteria vary for streams, courses, language programs, institutes and universities. To know about specific details and admission criteria students should directly contact concerned departments, colleges and universities. Applicants must scan the websites of academic institutes, colleges and universities for regular updates.
Also Read: Australia Study Visa
Why Select Hire Indians Immigration Services as Your Germany Study Visa Consultant?
Hire Indians Immigration Services always guides interested students to identify right immigration gateways that match with their personal, academic and professional credentials. The consultant always supports students to achieve their goals after completing studies in countries and universities of their interest. Contact us NOW!