UK Study Visa

About the United Kingdom (UK)
Located in Northern Europe, the economy of the United Kingdom is fifth largest in the world and the third largest in the European continent. London is the capital of the United Kingdom and the official language is English. This constitutional monarchy has four countries, including England, Scotland, Wales, and Northern Ireland, under its rule. Christianity is the widely practised religion in the UK besides other religions and faith such as Islam, Hinduism, Jewish, Buddhism and so on. The prominent cities in the UK are London, Manchester, Leeds, Edinburgh, Bristol, Liverpool, Swansea, Glasgow, Birmingham among others. London is the biggest city in the UK as well as one of the largest financial centers in the world. The country witnesses extreme temperature during summer season when mercury touches maximum up to 32 degrees and beyond, while during winter it drops to -10 degrees. The spell of rain in the UK during cold winter season is common.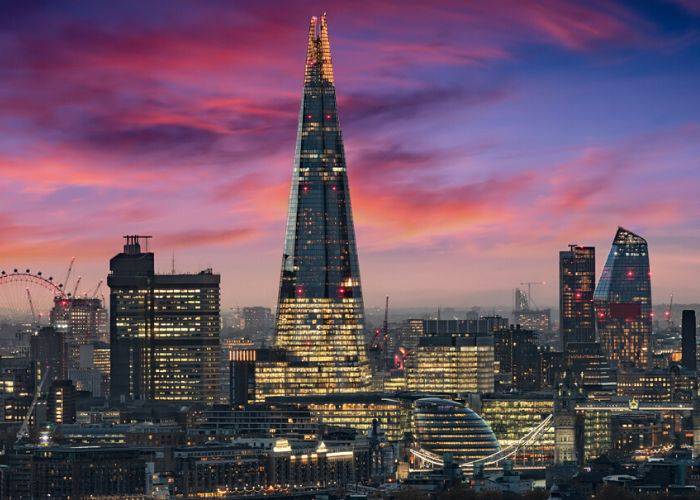 Being a globalised economy, the UK's service sector plays significant role and contributes 80 per cent of GDP to the country's economy. The employment opportunities in the UK are rising every year with expansion of business and service sectors. According to the latest records, the unemployment percentage has got down to 4 per cent by now. A hike in work opportunities in various industries and domains compounded with quality and affordable education imparted by universities makes the UK first and foremost choice among students from across the world, hence the UK student visa is one of the most sought after visas.
The UK has headquarters of 26 largest companies in the world. This indicates that MNCs and several renowned organisations require right fit for various profiles every year. The need of efficient manpower is met by young graduates and meritorious students from the UK universities. Impressed by the standard and quality of education, many schools across the world have adopted the British School system and examination pattern for the ease of students. The UK universities are known worldwide for the best faculty, teaching methodology and updated curriculum, hence they secure top positions globally in the rankings of educational institutes.
List of UKs' Top Ten Universities
UCL (University College, London)
University of Edinburgh
University of Manchester
King's College, London (KCL)
London School of Economics and Political Science (LSE)
University of Bristol
University of Warwick
Imperial College London
University of Cambridge
University of Oxford
Why Study in the UK?

The well-balanced education system in the United Kingdom attracts students from various countries in the world. Studying the UK universities benefit students manifold in terms of academics, work opportunities and career growth. All these reasons make the UK an ideal place to pursue higher studies. The student visa opens various gateways for international students and graduates.
Quality Education – Owing to quality education imparted by institutes in UK many students opt for higher studies in universities in the UK. There are many official organisations that regulate and assess the quality of education in different UK universities. This systematic regulation and assessment cycles check standard of education, delivery of educational modes, teaching-learning impact and so on with each passing year. The Quality Assurance Agency for Higher Education conducts audits to ensure fulfilment of benchmark set for quality education in these universities and institutes. Additionally, the authorities and departments in these universities also try to introduce and adapt new technology and methods to improve the education and learning system. Students from across the world love to get themselves groomed and trained in this kind of academic ecosystem.
Global Recognition of Degrees and Certificates – Besides imparting quality education, the universities in the UK also provide degrees and certificates that are globally recognised by leading institutes and industries. This means, that the young graduates from universities and academic institutes in the UK can apply for various opportunities, including employment, in different parts of the world. Experts believe that the academic pattern and curriculum followed by the UK universities make you stand out among other eligible applicants in the job market. It is considered that employers from across the world believe that the young graduates from the UK universities are well-versed with theoretical and practical knowledge of subjects they studied. Moreover, these graduates have rich cultural experience of the European world and developed economy. Clearly, the student visa to study in UK has its own advantages.
Affordable Study – Unlike Australia and the US, the UK education system is quite affordable and economical, particularly for higher and research studies. The UK universities are known for affordable study programmes, experiential learning and various scholarships and grants that can be availed by meritorious students. On top of it, these universities offer a wide range of courses in different streams. In the multicultural society of UK students feel warmth and support from the people. Experts suggest interested students, who are seeking UK study visa, should check details of scholarships and grants in the universities' websites.
Healthcare Coverage – International students can also access healthcare facilities free of cost. The country treats international students like its own residents and citizens. Foreign students are provided healthcare insurance during their stay in the UK. Please note that only a fixed amount for the medicines needs to be paid by those availing healthcare facilities. As a result, parents and family members of international students do not worry if they fall sick while studying in the UK.
Work along with the study – The UK study visa holders are allowed to do part-time jobs in the UK to support themselves during their stay in foreign land. However, the number of working hours for such candidates is limited. It gives an opportunity to students to do internship, assignments and projects with companies and industries in order to earn money for their sustenance and expenses. There are many international companies based in the UK that offer internship opportunities that go well with some popular and globally recognised courses. The work experience with such reputed firms and organisations go a long way and benefit students in many ways.
Socio-cultural exchange – Studying in one of the reputed universities in the UK offers a great opportunity to interact and learn from group of students from different backgrounds and nationalities. The higher studies in the UK universities help students discover and experience different cultures of countries, places, languages, traditions, food and so on. The student visa to study in UK offers a wide range of experience to international students.
Cultural Blend – The United Kingdom offers the taste of both – modern world and styles as well as traditional and unique culture and history of the UK. Students, who are seeking UK student visa, get to learn a lot about heritage and history of the UK and other countries. An array of famous places like the Roman Bath House, Stonehenge, and other such places beautifully defines the culture, traditions and heritage of the UK. Students also witness the modern and tech-enabled culture and lifestyle, latest fashion trends, nightlife, recreational places in the UK. This overall experience that explains rich history, extensive culture, and modern society of UK is appreciated by students and learners. In fact, many students and scholars come here for research studies on the mutual existence of old and modern world.
Available Programs
The academic institutes and universities in the UK offer a wide range of undergraduate, graduate, and short-term courses and programmes. The titles and duration of different courses, particularly having subject specializations may vary in the universities. Some universities in the UK offer both regular and distance learning courses for diploma, undergraduate, and master's degree courses. On the other hand, some UK universities offer programme both at undergraduate and postgraduate level only through regular mode. Students are suggested to check details of available programmes and subject specialization courses in universities' websites before applying for admission or submitting documents.
List of popular degree courses in UK universities
Undergraduate courses
Postgraduate courses
Pre-Masters courses
Two Year Degree courses
Research studies (Ph.D.)
Distance Learning Degree Courses
Some of the academic programmes offered by the universities in the UK are listed below.
Short Undergraduate Courses:
Full-time 2 years degree course, Diploma of Higher Education
Full-time 1-year certificate course, Certificate of Higher Education
Part-time 1-year certificate course, Certificate of Higher Education
These short term undergraduate courses can be done in different specializations and domains. Some short term undergraduate programmes also offer six months diploma courses through regular and distance learning mode. Many students opt these programmes to enhance skills and knowledge about specific subject and domains.
Undergraduate Options:
3 years of standard undergraduate degree course. However, some undergraduate degree courses take 4 years to complete.
Dual-honours or joint undergraduate degree course.
4 years sandwich course, that also include job placement for one year.
These undergraduate courses help students in learning various aspects of subjects. Students pursuing dual-honours courses gain advantage in terms of knowledge and training in various subjects. It enhances their career prospects and job opportunities.
Graduate or Master's Degree Options:
Academic Master's Degree – This is further categorized into different types of master's degree courses. They are:
Master of Science
Master of Engineering
Master of Business Administration (MBA)
Master of Arts, MA
Master of Philosophy
Master of Research (M Res)
Master of Letters (MLitt)
Professional Master's Degree – The professional master's degree course is taught in different specializations and domains. This also leads to widening of career prospects and work opportunities. Some of the professional master's degree courses are:
Master of Fine Arts (MFA)
Master of Social Work (MSW)
Psychology Master's Degree
Engineering Master's Degree
Postgraduate Certificate Programmes – These are taught in different domains
These master's degree programs and courses have duration of 1 or 2 years. It is important to note that some master's degree courses include research studies or PhD and it takes 3 to 4 years to complete as it entails lot of course work and projects.
UK Study Visa For International Students
The United Kingdom welcomes interested students planning to pursue undergraduate and graduate academic courses. Also known as Tier 4 in official language, this UK student visa for studying abroad is points based. Interested students must secure 40 points in order to apply Tier 4 visa. Please note that 30 points are allotted to candidates for having a valid confirmation letter from a University in UK and ten points are marked for proof of funds.
Types of UK Study Visa
There are two types of Tier 4 visas:
1. Tier 4 (General): This visa is granted to students, who are 16 year or above in age. If the University (approving admission to students) fall under UKBA Sponsor List or list of recognized academic institutes, students are allowed to work for 20 hours per week (maximum) and full-time during vacation and holidays.
2. Tier 4 (Child): This visa is granted to students in the age group of 4 to 15 years. Students in this category are admitted only in independent schools run by private entities.
Mandatory Documents for UK Study Visa
Fill visa application form
Secure Letter of acceptance (CAS from the recognized University in UK)
Academic certificates
Sufficient funds
Receipt of visa fee payment
Language proficiency score
UK Study Visa Processing Time
Interested students must follow below-mentioned steps to match the guidelines of the United Kingdom (UK) student visa processing time –
Ensure eligibility
Prepare documents listed for Tier 4 visa
Apply online
Pay application fee
Get appointment at visa application centre
Attend orientation at visa application centre
Submit photographs and fingerprints of students
Popular Industries
Many students often face problems and dilemma while identifying subjects and career option. Interested students planning to study in the UK universities should consult authentic education counsellors and must learn about some of the top and popular industries in the UK. It will help them taking informed decisions based on facts and market trends. Here is a glimpse of some popular industries in the UK:
Banking and Finance
Information Technology
Healthcare Industry
Construction Industry
Wholesale and Retail Industry
Oil and Gas Industry
Education sector
Transportation and Logistics Industry
Manufacturing industry
Being Europe's third largest economy, the UK plays a big role in the overall growth of the continent. The leading industries in various domains contribute towards the nation's economy by generating ample jobs every year.
Eligibility for Student Visa for Studying in the UK
The eligibility criteria for different degrees and courses vary in the UK universities. Students are advised to check specific course and degree programme of their interest in the website of university. Some common eligibility criteria followed uniformly in the UK universities are listed below —
English language: Proficiency in English language is a must. Interested students must qualify English ability tests which are accepted in the UK universities. These qualifying tests are —
International English Language Testing System (IELTS)
Test of English as a Foreign Language (TOEFL)
University of Cambridge Local Examinations Syndicate (UCLES)
Academics: Some of the basic eligibility criteria in terms of academics for international students are —
Undergo a foundation course of 1 year along with the 12 years of academics since British students have a total of 13 years of Pre-University academics. Students having good score in senior secondary examination can cross-check with universities for exemption of foundation course and direct admission in the course.
Apply through UCAS, Universities, and College Admission Service to check eligibility admission to the university to pursue full-time undergraduate courses
For master's or post-graduate degree, a student must have 3-year graduate degree or 4-years graduate degree (B. Tech or B.E.) equivalent to bachelor's degree of the UK in any stream
Previous academic records, transcripts, documents, and mark sheets need to be submitted along with the application form and letter of recommendation. Students also need to submit statement of purpose stating reasons behind choosing particular subject/stream and how they will manage finances in the UK.
Experts advise that students must go through eligibility criteria given in the websites of universities and enquire for the courses and streams they wish to study.
Note – The eligibility criteria differs for various courses and institutes. Students are suggested to refer academic websites of institutes, colleges and universities for updated and correct information.
Also Read: Student Visa to Study in Canada
Why Select Hire Indians Immigration Services as Your UK Study Visa Consultant?
Hire Indians Immigration Services supports and guides interested students to identify correct immigration gateways that match with their personal and professional credentials as well as that support them to achieve their goals after completing studies in countries and universities of their interest. Contact us NOW!