Student Visa to Study in Australia
About Australia
It is the smallest continent and one of the largest countries on Earth. Australia comprises many small islands as well as the island of Tasmania. The largest city in Australia is Sydney. It is also known as 'the Oldest Continent', 'the Last of Lands', and 'the Last Frontier'.
Australia was the last continent, apart from Antarctica, to be explored by Europeans. When Captain Arthur Phillip of the British Royal Navy landed with the First Fleet in 1788 in Australia, there may have been between 250,000 and 500,000 Aboriginals (locals). Most of them were nomadic hunters and gatherers.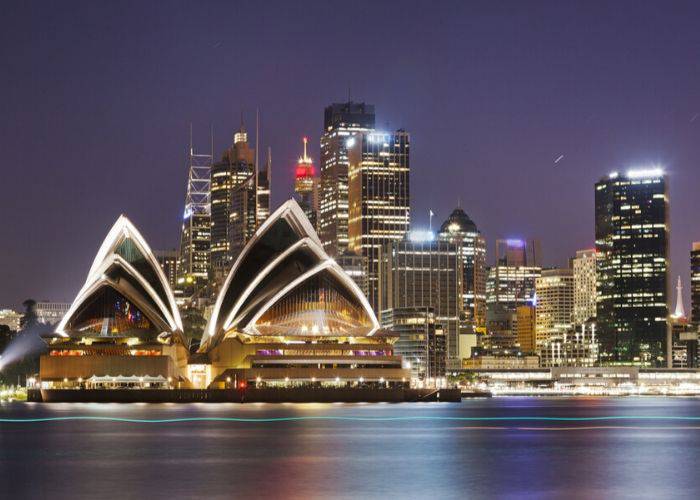 Currently, the total population of Australia is 25,424,700 and people only live in urban areas. The capital of Australia is Canberra. The universities in Australia impart education in its national language – English. The country has some other significant cities like Adelaide, Brisbane, Melbourne, Perth. Australia is also known for its diverse culture due to the presence of people from different backgrounds and nationalities working and staying there.
The currency of Australia is the Australian Dollar. Since Australia has huge area the climatic condition is different in different regions. The summer season in northern region of Australia is generally hot and humid, while winter season is warm and dry. The southern regions in Australia have very mild summers and witness rains during winters. The southern region of Australia is quite cold compared to northern region.
Australia has mixed market economy and it is considered the 14th largest economy in the world at present. The GDP of Australia is Australian Dollar 1.69 trillion. Being a high-income economy, Australia is growing every year at a rapid pace. The service sectors contribute a lot to the nation's economy. The key industries in Australia are also growing and make huge profits. These industries and business in Australia offer variety of roles and profiles every year in different sectors to young graduates and talented individuals. Australia surely promises good growth and better standard of living.
Why Secure Australia Study Visa?
The education system of Australia is impeccable and promotes talented individuals. Besides getting knowledge of various subjects, students learn a lot while studying in Australia by securing student visa to study in Australia. No doubt, its education system enhances job and growth prospects of students. Some key reasons about universities and education system in Australia as well as securing Australia student visa are listed below.
Affordable education – The universities in Australia offer a wide range of courses from short term courses to master's degree programmes. Every university in Australia has its own fees structure based on academic courses offered by them. These courses are designed in student-friendly manner and they can get the maximum output and that too at a relatively low fee. The academic institutes in Australia are less expensive compared to universities in the USA. It applies to cost of living as well. Australia is quite affordable to people from different strata of society. According to rough estimates, Australia and the USA are the most preferred choices of students opting overseas studies. Australia indeed is at advantageous positions than the USA in terms of affordability. Therefore, Australia study visa has its own advantages.
Ample Scholarships – The government as well as universities in Australia offers several scholarships to meritorious students, particularly to international students. These scholarships are a boon to eligible students, who are not able to afford higher studies in countries like Australia. Eligible students should clear qualifying exam with good scores in order to avail these scholarships. Interested students, who are willing to secure Australia study visa, are advised to check the websites of various universities in Australia to know more about these scholarships, eligibility criteria and qualifying tests.
Quality Education – The education system in Australia is renowned for imparting quality education to its students. The universities in Australia use latest teaching methods, tools and assessment patterns to enhance learning of students. The education system promotes experiential learning and industrial training that provides hands-on approach to learners. Such measures help students in learning about latest technology, techniques, machinery, best practices and trends that go a long way in supporting them in business and corporate environment. Experts believe that students equipped with apt knowledge and industrial training are preferred by recruiters across the world. The quality teaching-learning process encourages many to secure student visa to study in Australia.
Globally Recognised – Owing to global acceptance of different courses offered by universities in Australia graduates do not face difficulties in getting jobs in any country. The Australian universities are globally recognised and get high rankings in academic parameters. The education system updates professional and academic courses in regular intervals. Hence, these courses resonate with demands of different industries, corporate, social sectors and so on. Experts reiterate that universities in Australia make improvements in learning methods by adopting industrial training methods. The education pattern always considers global market trends to make education more interesting and valuable for the students.
Offering Different Courses – The education system in Australia focus on subject specialisation and study of specific domains unlike other universities in the world that mostly focus on technical courses or education in Information Technology (IT). It means that students from commerce, humanities, social science streams also get to learn in universities. The universities I Australia offer research studies in other streams and disciplines apart from IT, science and technology, engineering and mathematics. In fact, some of the popular courses in Australia are journalism, media studies, photography and animation among others. There are many educational institutes in Australia, which also offer short term courses in these subjects if learners wish to know the basics of these professional programmes. Moreover, the universities in Australia offer all kinds of courses like certification courses, bachelor's degree, master's programme, doctoral and post-doctoral studies. A wide range of courses offered by universities and academic institutions motivate many to secure student visa to study in Australia.
Australian Post Study Work Visa – Many countries across the world provide Post Study Work Visa to its overseas students. This visa category helps international students to secure job opportunities after completing academic courses. Australia also provides Post Study Work Visa to international students. It is a temporary visa provided by the Department of Immigration and Border Protection, Australia, to foreign students. This visa is also known as '485 Visa Australia'. There are two categories under this visas programme namely Post-Study Work Stream Visa and Graduate Work Stream Visa. The duration of these visas is from 2 to 4 years.
Easy availability of Visa – For overseas studies, one often faces the problem in getting a student visa because of the complex visa process. But when it comes to studying in Australia, it is still easier to get a visa in comparison to other countries. However, this does not mean that there will be fewer requirements or approvals. But the Australian Visa approval does not take much time. With the help of right people, you can easily get your Australian Student Visa in a short span of time, once you fulfill all the formalities.
Part Time Job Opportunities – It is quite difficult to find part-time work in many countries while pursuing further studies. However, students do not face difficulty in getting part time work opportunities in Australia. International students easily get part-time jobs that do not disturb their class and study schedules. Moreover, the Australian Student Visa grants opportunities to students to work part-time while studying in university. The foreign students are allowed to work for around 20 hours every week. They can work full time as well during breaks after completion of semesters. This supports students in earning pocket money and in repaying education loans.
Experience Vibrant Culture – People of various nationalities work and stay in the Australian continent. Also known as 'pot of melting cultures', sources state that people from different cultures, backgrounds, religious beliefs are working and living in Australia. The local residents are friendly and embrace people from other nations. Australia is considered a peaceful country and continent. It is one of the best countries to experience and learn about multiple cultures and traditions along with academic studies.
Job Opportunities in Australia – Leading industries and business in Australia offer great opportunities to meritorious students and graduates. The booming medical and health care industry in Australia has plenty of work opportunities for talented people. Other prominent industries that offer various roles to young graduates are data analysis, education, software development, civil design, architecture, construction, digital marketing, human resources, cyber-security, agriculture, business development, event management, aeronautics, creative arts and so on. Immense growth and job opportunities have made Australia one of the most desired countries among students for higher studies and secure Australia study visa.
Available Education Programs in Australia
The universities in Australia offer variety of courses in different streams. Students can identify right course and institute after scrutinising details. Since different universities offer different programs and they also keep updating courses and introducing new programmes it is advisable to check the websites of universities and talk to the concerned departments. Here is a list of some basic programs which are available in various universities in Australia.
Certificate and Diploma Courses – Most of these courses offer vocational training. The duration of certificate courses is from six months to one year, while diploma courses have tenure of one to two years. Students can opt full time, part-time, and distance learning certificate and diploma courses.
Undergraduate Courses – These courses include general subjects as well as specialization in specific subject. The undergraduate courses include bachelor's degree course, honour's degree course, and a graduate diploma course. The duration of these courses is 3 to 4 years.
Master's Courses – The master's degree course includes both subject specialization and research programmes. The Australian universities offer several master's degree courses. The duratpion of these courses is 2 years, while some research courses can be completed in three years.
Australia Study Visa
Also termed as Subclass 500, the Australian student visa is granted to students based upon nationality, selected Australian University, nature of academic course (full-time study), sound medical condition, sufficient funds and so on.
Mandatory Documents for Australia Study Visa
Valid passport
Confirmation of Enrolment form from Australian university
Non-immigrant visa application
Application fee payment receipt
Non-immigrant visa application
Statement of Studies
Educational certificates
Language proficiency (English language test score)
Statement of purpose
Sufficient funds
Overseas health insurance (OSHC receipt)
Passport-sized photographs of student
Australia Student Visa Processing Time
Eligible candidates, who fulfil all eligibility criteria, must apply to get Australia study visa 124 days before the start of their academic session/course. The Australia student visa processing time is four weeks, if students meet all eligibility criteria. Eligible candidates are allowed to travel to Australia 90 days before the start of their academic course/session.
Popular Industries
International students, wishing to pursue higher studies in Australia, are also keen about popular industries and market trends in Australia. These insights provide them correct perspective and information regarding growth prospects in Australia post studies. In fact, foreign students desire to follow higher studies in countries like Australia, UK, Canada, the US and so on so that they get better work opportunities offshore. There are many industries in Australia that are growing exponentially and promises great career opportunities, particularly to job seekers and young graduates. Here is a glimpse of major industries in Australia —
Retail Trade Industry
Health Care and Social Assistance
Construction Industry
Professional, Scientific, and Technical Services
Education and Training Sector
Manufacturing Industry
Accommodation and Food Services
Transportation Sector
It has been speculated that above-mentioned sectors will have immense job opportunities by 2021 and 2022. This is a positive aspect for international students, who are planning to pursue higher studies in Australia.
Eligibility Criteria for Applying Student Visa to Study in Australia
Experts advise students, who are keen on pursuing higher studies in Australia, to check all eligibility criteria before applying for student visa. Most of the universities and educational institutes have common eligibility requirements. However, it is suggested to check with universities and concerned departments to know more about specific programmes or streams in universities and academic institutes. Apart from common eligibility criteria, every university has specific test and requirements like grades or GPA, scores to get admission to that programme. Read on to know more about common eligibility criteria followed by universities in Australia.
English Language: It is important to note that the universities in Australia consider scores of English Ability Tests. It should be kept in mind that good score in qualifying English Language test is required while applying for student visa in Australia. The Australian Department of Immigration and Multicultural Affairs only accepts IELTS (test to assess proficiency in English) score for visa approval. If candidates are unable to obtain required IELTS score mandatory for Australian student visa, they can pursue English Language Intensive Course for Overseas Students (ELICOS) in Australia. The IELTS score is considered in universities in Australia. These universities require different IELTS scores to secure admission in academic courses.
Academics:
Interested students willing to pursue undergraduate degree course and postgraduate degree course need to fulfil all eligibility criteria mentioned by the universities. Some common eligibility criteria stated by Australian universities are —
Undergraduate – Students must have Australian Senior School Certificate of Education or Class 12th. Interested students can provide overseas secondary school qualification certificate equivalent to the certificate of Australian Year 12.
Graduate or master's degree – To secure admission candidates should have completed the undergraduate or bachelor's degree qualification equivalent to the Australian Bachelor's Degree or Australian honour's degree or Australian Graduate Diploma. Also, the overall grades should be enough to meet the admission requirement in the Australian universities.
Research Programs or Postgraduate Degree – Candidates should have completed the honour's degree, master's degree along with the research component, or equivalent qualification from one of the approved universities.
Also Read: Student Visa to Study in UK
Please note that during the time of submission of application, candidates need to submit copies of transcript or mark sheets of the required degree or certificate, along with other relevant documents. Also, some professional courses demand prior work experience in order to secure admission.
Note –  The eligibility criteria vary for academic institutes in Australia. It is advisable to check portals of specific institute or university for updated information.
Why Select Hire Indians Immigration Services as Your Australia Study Visa Consultant?
Hire Indians Immigration Services always guides interested students to identify right immigration gateways that match with their personal, academic and professional credentials. The consultant always supports students to achieve their goals after completing studies in countries and universities of their interest. Contact us NOW!