Canada Study Visa
About Canada
Located in North America, it is the second largest country after Russia by the land mass in the world. Its federal capital is Ottawa. It has 10 provinces and 3 territories. More than 80% of the population resides in urban areas which are within the radius of 100 km of the US border. The most popular Canadian cities are Toronto, Montreal, Vancouver, Mississauga, Winnipeg, Calgary, Regina, Edmonton, Saskatoon and Halifax. Canada is widely known as 'land of snow', but the country also witness hot days during summer season. The highest temperature ranges between 37°C to 40°C during summers and minimum temperatures witnessed here is from -38°C to -45°C.
Since most of the population resides in urban areas, majority of the land in Canada is vacant and come under 'Forest or Tundra' region. The urban areas have a few of the most developed cities in the world. Immigrants are embraced by locals and society supports people from other nationalities in all their endeavours – housing, jobs, economy, healthcare, education and so on. The Canadian economy hinges on its immigration and tourism sectors. The culture of 'sorry' and 'thank you' for even the smallest things is rampant in Canada. It is very rich in natural resources such as water, wood, minerals, petroleum, etc.. Various economic activities take place in empty land such as development of various industries, mining, manufacturing, logistics, international trade, software, banking, insurance, etc. The economy of Canada is very strongly influenced by the banking and finance sector.
The country provide quality standard of living to its residents and immigrants. It is ranked 2nd in the Social Progress Index which includes factors like Basic Human Needs, Social Well being, Life Expectancy and Access of Technology to the people. The Canadian provinces are known for cleanliness and fresh surroundings. The federal government provides a range of welfare benefits in general to regular taxpayers and people irrespective of their residential status. The country has beautiful landscapes and vacation sites in different provinces.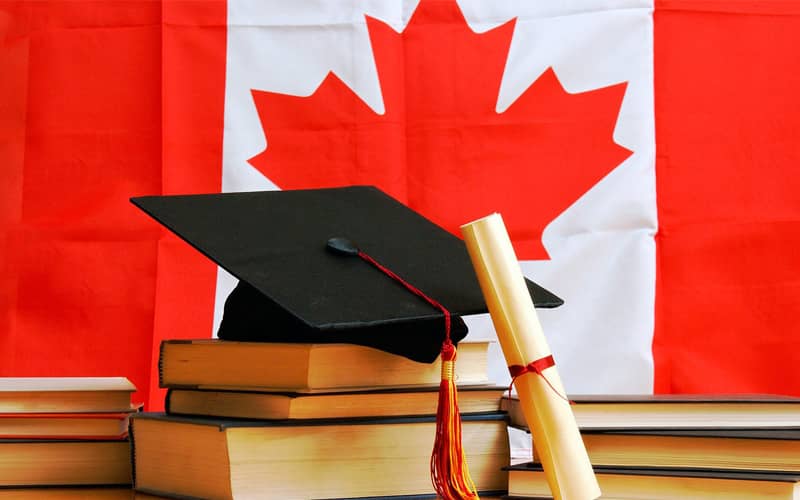 Why Study in Canada?
Canada is considered one of the most desired destination countries among international students. Experts state that the country offers multiple reasons to foreign students to pursue higher studies in Canadian universities. In fact, Canada study visa opens different gateways to grab job opportunities in Canada, including open work permit, if candidates meet all eligibility criteria. Student visa to study in Canada also offers international students opportunities to explore culture, academics, economy, traditions and different places.
Affordability
Canada is famous for its affordability, particularly for international students. Compared to other developed nations, Canada offers reasonable fee structure for Student visa to study in Canada. Some opine that the cost of studying is three to five times higher for international students than local Canadian students, but it still comes under affordable category compared to academic expenses in the US and Australia. Interested students willing to pursue undergraduate degree course need to spend an average sum of $18,000 to $25,000 per annum, whereas for post-graduation programme the cost is around $14,000 to $20,000 per annum. Diplomas programmes are considered even more economical. Accommodation costs from $300 to $800 per month depending on city and location. For day to day expenditure $1,200 is sufficient on monthly basis for a decent living. An overall expenditure for an international student to survive in Canada for one year is $10,000 as prescribed by the Immigration, Refugees and Citizenship Canada (IRCC).
High Standard of Education
Canadian academic institutes offer quality education as well as provide North American Education perspective to international students that reflects in their resume and hence valued everywhere across the world. The education system is controlled and directed by Canadian provinces, hence titles of different programmes differ in various provinces. Some of the well ranked institutions have been securing place in top 500 institutions in the world, namely – Queen's University, University of Calgary, Western University, University of Waterloo, Université de Montréal, McMaster University, University of Alberta, University of British Columbia, McGill University and University of Toronto.
Experts advise that students should check with other universities as well for higher studies since securing admission in some of these universities is extremely difficult. Moreover, some universities are also expensive. Other Canadian universities are equally good offering quality education at affordable and reasonable tuition fee. The concept of Community Colleges, which deliver industry specific certificate, diplomas and degree programmes, in Canada is also very popular. Canada assures its international students of seamless quality education that resulted into high number of applications every year from students from other countries. Student visa to study in Canada offers unique opportunities to international students to pursue advanced level courses, sometimes available only in foreign universities.
Experiential Learning
Canada offers industrial knowledge, training and skills in academic programmes. It is contrary to Indian education system where students get theoretical knowledge about technology, industry, machines, tools and so on as well as their operational rules. A right blend of theoretical knowledge and industrial training imparted by experts through workshop training modules, case studies, weekly projects, etc., creates wonder for growth of students. This makes education fun, student-friendly and relevant for all ecosystem and changing industrial landscape. This makes Canada student visa an important platform for candidates to shape their career and goals.
Ample Scholarship Options
Many academic institutes in Canada offer scholarships and bursaries for various courses and streams. These scholarships are valid with effect from time of application and sometimes it comes into effect once student joins the institute. The grants and scholarships are disbursed on basis of semester's duration and are available through many federal, provincial or even private organizational authorities or departments. This may grant a couple of hundred dollars and sometimes covers complete semester fee. Canada study visa offers ample scope to international students to pursue academic courses of their interest by securing scholarships and grants.
Convenient Visa Process
Canadian study visa processing is considered as one of the most frequently updated, fast and hassle-free processes. One of the biggest changes is the introduction of Student Direct Stream (SDS) System for processing of student visa. This process allows students with good academic records and proficiency in English language to avail visa processing without much documentation and is done in time bound manner. This encourages international students to pursue higher studies in Canadian academic institutes and contribute to teaching-learning process. This measure has also given a boost to Canada's GDP and allowed them to promote development of various underdeveloped regions.
Permanent Residence Opportunities
Canada is known as immigrant-friendly country. Its user-friendly immigration rules applies equally to young professionals, start up enthusiasts, entrepreneurs, job aspirants as well as international students seeking to carve robust and reliable career in Canada. Canadian provinces actively promote Provincial Nomination Programs (PNP) that allows eligible candidates to become residents of specific Canadian province after fulfilling mandatory processes in hassle-free manner. Immigrants feel safe and secure in Canada. The federal government's pilot programme, 'Atlantic Immigration Pilot Program', aims to promote development in the Atlantic provinces as well as allows various companies and industries to hire right candidates, including international students, and give them Permanent Resident status. It further opens a gateway to apply for Federal Permanent Residence (PR).
Cultural Diversity
Owing to its reputation of being an immigrant-friendly nation Canada attracts students from all countries across the world. The Canadian cities are abuzz with festivities and celebrations related to other countries. In fact some festivals are very popular in Canadian provinces and are treat for eyes. These include Diwali, Baisakhi, Eid, Chinese New Year among other cultural events. The cultural diversity is one of the greatest strength of Canada. Moreover, when it comes to Indian students, Canada has been ranked as one of the most easy to adjust countries.
Safe, Welcoming and Peaceful
Canada is counted as one of the safest countries to live. Any act of racism, brutality towards immigrants and refugees, abusive behaviour, violence and so on are intolerable and authorities take prompt actions against culprits. The provincial and federal laws for such inhumane acts are very extreme and harsh. The wrongdoers are instantly imprisoned or heavily fined, if found guilty. It has been listed as top five safest countries for women. Inclusive society and immigrant-friendly aspects make Canada one of the most sought after destinations in the world. People are helpful and supportive. There is a good strength of Indian diaspora in Canada. It surely comforts immigrants from India. Extensive presence and outreach of Indian community means easy availability of Indian food and warmth in foreign land.
Medical Insurance
As part of an arrangement mandated by Federal government, all Canadian universities and colleges must provide health insurance to international students. It might not cover all medical expenses, but it surely covers 70% to 90% of medical expenses depending on the kind of plan being offered to students. Experts suggest that students must get a detailed note on medical insurance from Student Services Counter at respective colleges. The provincial government also provides free medical insurance once students complete stay for specific duration and paid all taxes efficiently.
Work Along with Studies and Post Study Work Permit
Canada offers great opportunities to international students to gain valuable experience while pursuing studies. International students are allowed to work for 20 hours per week while attending college. The government permits them to work full time i.e. 40 hours per week during vacations. International students also get opportunities to gain industry experience through Co-op, an internship with an organization that specializes in arena of students' studies. The Post Study Work Permit Another is another apt option available to international students in Canada. After completion of academic programme, international students are allowed to apply for a Post Study Work Permit, which ranges minimum from the duration of academic studies to maximum three years.
Canada Student Visa
Canada offers only single category student visa or study permit for international students. In order to secure Canada student visa, interested students must fulfill below-mentioned criteria:
Acceptance of admission by a Designated Learning Institute (DLI) in Canada
Willingness to study in Canada
Police clearance certificate
Medical certificate
Enough funds
Please note that any false declaration or discrepancies in submitted details will result into rejection of application and authorities may bar applicants' entry to Canada.
Set Of Documents For Canada Study Visa
Here is a list of documents required while applying for Canada study visa:
College acceptance letter or proof of acceptance from DLI
Valid passport
Educational certificates
Language proficiency score (IELTS)
Statement of Purpose
Visa application form
Medical certificate
Police clearance certificate
Passport size photographs
Proof of funds
Canada Student Visa Processing Time And Application Process:
Canada study visa application process entails these steps:
Apply online or offline
Fill application form and the VFS consent form
Deposit visa fee (non-refundable). Applicants need to deposit visa fee for dependents as well
Submit application online or visit nearest VFS office, if applying offline
Get a unique tracking number to check status of application online
Notification from Federal government of Canada for passport stamping if student visa application is approved
Submission of passport at VFS along with a printed copy of the passport request letter
Receive TR visa and a Letter of Introduction
The Canada study visa processing time is 3-4 weeks.
Available Programmes
Canadian academic institutes offer programs in plethora of subject specializations for students from different streams. Hence, international students get a wide range of options at higher studies level. Some of the most popular study options in Canadian academic institutes are listed below.
Undergraduate Level Options:
1. Post-Secondary Certificates – One year programme with subject specialization
2. Post-Secondary Diploma – Two year programme with subject specialization in a stream. It may lead to Post Study Work Permit up to 3 years.
3. University Transfer Program – This one year programme allows direct credit transfer into universities. Please note that Post Study Work Permit is not allowed before completion of degree.
4. Associate Degrees or Pre University Diploma – This two year programme allows direct credit transfer into universities. It allows Post Study Work Permit up to three years.
5. Advanced Diploma – This three year programme with subject specialization up to industry level may even provide students full time jobs. It allows Post Study Work Permit up to three years.
6. Undergraduate Degree – This three to four years duration academic programme offers a bachelor's degree. It usually entails subject specialization and may provide full time jobs. It allows Post Study Work Permit up to three years.
Graduate Level Options
1. Post Graduate Certificate – One year academic programme with sujcet specialization at industry level. It allows up to one year of Post Study Work Permit.
2. Post Graduate Diploma – This academic programme has duration of 16 months to two years and entails subject specialization at industry level. It allows Post Study Work Permit up to three years.
3. Post Diploma/Fast Track Program/Post Baccalaureate – This academic programme having duration of 1 to 2 year include subject specialization. It allows Post Study Work Permit depending on the duration of study.
4. Master's Degree – This 1 to 2 year long academic programme opens gateway to subject specialisation at postgraduate level with exposure to industrial training. The Post Study Work Permit depends on the duration of study.
Leading Industries
In order to carve bright and promising career students should make informed decisions based on long term perspective. Correct knowledge of industries and market trends in Canada also helps students to select courses best suited to them. It shows that studying in Canada as an international student has its own advantages in terms of getting Canada work permit. Here is a glimpse of most popular industries in Canada that offer several job openings every year to young graduates and meritorious students in different Canadian provinces.
Computer Science & Information Technology
Business, Finance & Banking
Core Engineering & Engineering Management
Physical & Earth Sciences and Renewable Energy
Agricultural Science & Forestry
Bio-sciences, Medicine & Healthcare
Media & Journalism
Retail, Customer Service & Sales
The Federal government of Canada believes in systematic yet fast growth, thus its industrial and economic landscape is witnessing emergence of tech-based industries such as aerospace, pharmaceuticals, automotive, bio-products, chemicals and plastics, healthcare, medical devices, renewable energy, banking and insurance, software and wireless technologies, finance and consultancy among others. Canada is also one of the largest manufacturers of automotives. The country attained a significant position in international trade with the US and Mexico as well as established great trade relations with Europe. This made Canada an attractive destination to investors, start up enthusiasts and entrepreneurs.
Eligibility Criteria to Study in Canada
English Language
Since Canada is largely an English speaking country, the Federal government allow immigrations having good command over English language so that they are able to communicate with locals and business set up. Interested students must secure 6 bands in all modules in IELTS to obtain visa. However, some colleges also accept 5.5 bands in one or two modules.
Many PG programmes only accept 6.5 bands in IELTS, while Master's programme seekers must get 7 bands in overall modules and no band should be below 6.5.
TOEFL and PTE are also widely acceptable qualifying tests.
Academics
For undergraduate studies, score of Class 12 is a must. However, few institutes also accept Polytechnic Diplomas. Students having score of 75% and above can also apply for scholarship.
For postgraduate studies, a total of 15 years of formal education is a must. Many institutes also ask for 16 years of formal education for Master's level programmes. Students can pursue PG Diplomas with a score of 55% in previous programme. The Master's degree programme requires 70% score in previous degree. Some professional degree programme may also require relevant work experience.
It is advisable to students that they must pursue undergraduate studies maximum after 2 years of gap post Class 12.
Note – The eligibility criteria may differ for different courses in academic institutes in Canada. It is advisable to students to refer academic websites of institutes for updated and correct information.
Interested students, who are seeking foreign student visa to study or willing to pursue higher students, can get in touch with trustworthy Canada study visa consultant like Hire Indians Immigration Services to receive right guidance on subjects of study, immigration channels/gateways, eligibility criteria, processing time and so on.
Why Select Hire Indians Immigration Services as Your Canada Study Visa Consultant?
Hire Indians Immigration Services supports interested students to select right immigration gateways based on their academic, personal and professional credentials. This sort of planning helps international students to achieve their dreams, career goals, financial targets etc after completing studies in Canada. Team Hire Indians 'help people live good life' and thus we believe in 'quality' and 'guaranteed results'. Hire Indians do not accept application fee or token money from candidates if they do not meet eligibility criteria. It saves time, money, energy and resources of interested students and candidates. Contact us Now!