Work Permit in the United Kingdom for Chefs and Cooks
The United Kingdom is one of the most sought after immigration destinations amongst professionals, skilled workers, trained youth and job seekers in hospitality industry due to huge demand of efficient manpower by employers and industries. The country has strong economy, developed technology and industries, multicultural society and ample work opportunities.
The United Kingdom includes territories of Great Britain (England, Scotland and Wales) and Northern Ireland. The country is also visited by people from different sections of society for various purposes such as study, business, and work etc. The country is also a top tourist destination amongst European nations. Tourists visit the UK to explore various cultural and heritage buildings, museums, famous buildings, popular rivers, public spaces, iconic theatre etc. This gives boost to food and accommodation business as well as hospitality industry. In order to serve clients from different backgrounds, employers always seek chefs, who are trained and have necessary skills. Hence, cook and chef work permit in the UK is one of the safest immigration pathways.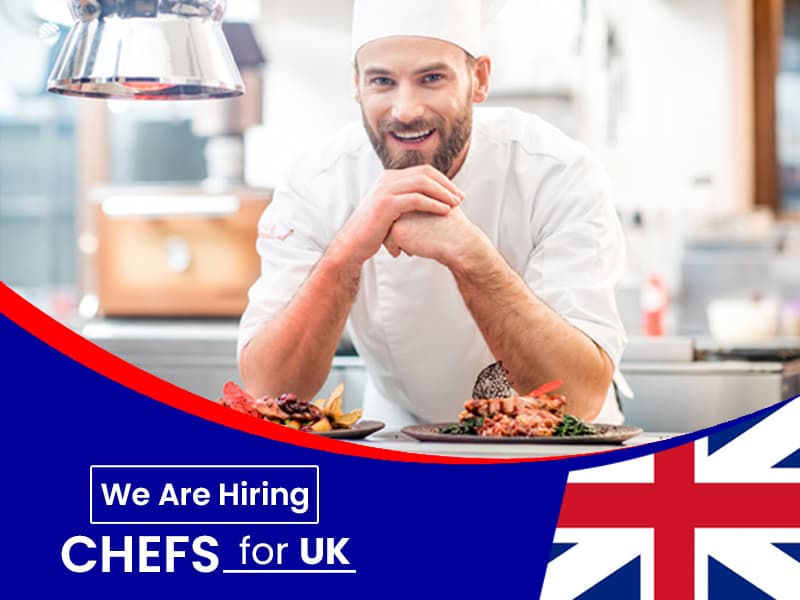 Why Applicants Must Seek Cooks and Chefs Jobs in UK?
In order to fulfil demands of cooks and chefs in the growing hospitality industry in the United Kingdom, employers seek trained and skilled manpower.
One of the largest industries in the United Kingdom is hospitality sector.
A study says that as many as 21 per cent of the UK's chefs work in London (55,000 chefs and cooks).
According to news reports, the demand of chefs and cooks in the country has tripled in last decade.
Chef and cook are the most in-demand job title across London, according to the country's job portals.
The report also says that employers are not able to find right candidate among local population despite growing demand for chefs and cooks. This makes them looking for another option – hiring skilled and trained cooks and chefs from other countries, particularly India. Therefore, Indian chef jobs in the UK is the best platform to secure bright future.
The residents and people in the United Kingdom respects Indian skilled workers and professionals, therefore, cook and chef jobs in UK with work permit is a good opportunity to have stable career and earn salary in foreign currency.
Indian chef jobs in UK are particularly beneficial for skilled and trained professionals having prior work experience in as cooks and chefs. The chef work permit in the UK from India is therefore a good chance for trained youth and young professionals and job seekers wishing to secure job in the UK as cook, chef.
Why Candidates Should Seek Cook and Chef Work Permit in the UK From India?
Opportunity to work in a developed economy
Earn salary in foreign currency
Better career
Opportunity to work and learn from seniors and experts
Quality life
Opportunity to work with famous brands in hospitality industry
Safe and secure work conditions and other benefits for employees
Strict employment conditions and guidelines for employers
Professional work culture
What are Eligibility Criteria For Chef Jobs in UK With Work Permit?
The point based skilled worker visa programme allows applicants to work and stay in the UK as cooks and chefs in hospitality industry. In order to achieve this, applicants must secure a valid job offer made by an approved employer or from a Home Office Licensed Sponsor. Earlier, this visa category was known as the Tier 2 (General) work visa. The applicants also need to fulfil the required language skill level.
Applicants must get minimum £25,600 or more as salary through valid job offer. The job offer is officially known as Certificate of Sponsorship.
Applicants interested to secure positions of cooks and chefs must meet below-mentioned eligibility criteria –
➞ Education – Class 12 (minimum)
➞ A valid Certificate of Sponsorship from an employer holding a valid Sponsor License
➞ Language proficiency skills (IELTS – 5 bands in each module or section)
➞ Prior work experience of 8-10 years in related field
➞ Security (Police) clearance certificate
➞ Enough funds
The point based system of skilled worker visa program allocates points to job applicants for different categories like education, certificate of sponsorship, work experience, and language proficiency etc. Applicants are advised to have good academic records, have prior work experience in related field and score maximum IELTS to successfully secure immigration to the United Kingdom.
What are Essential Elements and Documents to Get Indian Chef Jobs in the UK?
In order to secure skilled worker visa, applicants, having experience of cooks and chefs with good brands in hospitality industry, must fulfil following terms and conditions as well as get documents ready –
➡ Must have a 'certificate of sponsorship' from employer
➡ Must have all important information in writing about job assignment (offer)
➡ Offered job or skill should be approved by the Home Office. In official terms, job or skill (cooks and chefs) should be listed on the Tier 2 Shortage Occupation List
➡ Job or skill of cook and chef should be mentioned in the list of eligible occupations
➡ Job offer for cook and chef must pay applicants minimum threshold salary (generally minimum salary depends on the type of work and industry)
Applicants must meet all eligibility requirements of skilled worker visa for cooks and chefs in the UK. They must secure a valid or confirmed job offer or valid Certificate of Sponsorship before applying for skilled worker visa program. In order to save themselves from fake consultants, interested applicants always seek guidance from trustworthy consultants like Hire Indians Immigration Services having proven track record in facilitating UK migration to several cook and chef job aspirants. The consultant believes in supporting applicants to achieve career goals and aspirations.
It is important to note that UK work permit visa is granted for five years and it can be extended or updated once it is expired or applicants change job or employer. In order to update or get extension, applicants need to fulfil all relevant eligibility criteria of cook and chef jobs.
After five years in the United Kingdom, applicants also get a chance to apply for permanent residency in the UK officially known as 'indefinite leave to remain'. This allows applicants to work and live in the country as per their wish as well as avail social, healthcare, educational, and certain welfare benefits provided by the government.
What are Benefits of Cook and Chef Jobs in the UK With Work Permit?
The UK work permit visa makes applicants eligible for the following services and opportunities –
Assures a valid job offer from an employer
Allowed to work part time, if applicants meet all eligibility criteria
Chance to study further or pursue academic programmes
Primary applicants are allowed to accompany dependants (including spouse and children) to the UK. It is important to note that dependants must meet all immigration related eligibility criteria. In order to migrate to the UK, the principal applicant (as well as dependant and children) must pay the application fee, pay healthcare surcharge every year besides having sufficient funds in their accounts
Allowed to do voluntary work
Allowed to travel abroad and return to the UK
After staying in the UK for five years, applicants can apply to settle permanently in the UK (also called 'indefinite leave to remain') after fulfilling other eligibility criteria
It make a note that applicants (cooks and chefs) cannot apply for most financial benefits such as state pension as well as change (switch) jobs or employer before applying to update the UK work permit visa.
How to Apply for Chef Work Permit in the UK From India?
In order to secure cooks and chefs jobs, interested applicants can apply for skilled worker dependent visa through online mode. They are allowed to file applications for dependants (spouse and children) later.
Please make a note that holders of skilled worker dependent visas (spouse and children) can stay in the UK for the same period as the main applicant of skilled worker visa. Also, the spouses of main applicants are allowed to work in the UK with some limitations. Spouses of primary applicants are allowed to study or pursue postgraduate academic programmes after fulfilling all eligibility requirements.
Applicants, particularly who belong to following categories, can apply online-
Those staying outside the UK
Those already present in the UK and applied for extended work permit visa
Those already present in the UK and switching visa category or applying for a different immigration programme after fulfilling eligibility criteria
In case of the last category, if applicants are changing job or employer, they need to apply to update or get visa extended.
What is the Processing Time For Cook and Chef Work Permit in the UK for Indian Citizens?
Interested applicants can apply for the UK work permit visa three months before the day of joining work as cook and chef in the United Kingdom. The date of visa application will also be mentioned on the certificate of sponsorship. Further, applicants should submit all relevant documents in ready to use format to support visa application for cook or chef jobs in the UK. These documents include proof of identity, education, work experience, language skills, apprentice or training etc.
Applicants usually get a response on visa applications within three weeks, if they are outside the UK and eight weeks if they are already present in the country. In order to keep visa applications on the fast track mode, interested applicants must meet all eligibility requirements and have all relevant documents for submission and official purpose.
Why Seek Guidance From Hire Indians Immigration Services?
Securing cooks and chefs jobs in the UK is a difficult task. The process requires correct evaluation of application, selection of right immigration programme, documentation, co-ordination and so on. In order to immigrate to the UK as cook or chef, applicants must get guidance and assistance from trusted work permit visa consultant such as Hire Indians Immigration Services. The consultant is an expert on the UK work permit visa requirements as well as provides regular updates and trends to applicants. The consultant believes in facilitating the best individual guidance and services to applicants in order to help them securing their dreams of migrating to the United Kingdom and have bright future. Contact us NOW!