Canada Immigration Consultant
Offering various immigration gateways, facing low unemployment rates, which means having more job opportunities and free of cost healthcare and education makes Canada one of the most sought after destinations among immigrants, skilled and semi-skilled workers, international students and young professionals. As per the Global Peace Index report, Canada is one of the most peaceful countries in the world and is ranked sixth in its recent report. The Canada immigration process starts with seeking reliable Canada immigration consultant such as Hire Indians Immigration Services.
According to the government, the Canada immigration would be increased to support economic recovery and excel growth. Under the 2021-2023 Immigration Levels Plan, the government aims to welcome over 400,000 permanent residents every year. The government is focusing economic growth and meeting demands of labour industries. The country aims to welcome more immigrants under the Federal Skilled Worker Program, Federal Skilled Trades Program, Canadian Experience Class, the Start-up Visa and Self-Employed Persons program.
Immigration to Canada – Road to Success
It is interesting to note that a large number of skilled and semi-skilled workers, young professionals, entrepreneurs, businessmen and international students are looking forward to migrate to Canada even during pandemic.
According to the latest survey report by Word Education Services (WES), a recognised assessment agency, the interest of skilled workers and young professionals in Canada immigration has increased between April and August 2020. Most of the respondents did not want to delay their immigration plans and seeking to complete Canada immigration process at the earliest.
Most of the respondents in this survey, 46 per cent, were Indians; another 17 per cent were Nigerians; Filipinos were 5 per cent and others were 4 per cent of the total respondents.
What are Canada Immigration Gateways?
Tourist Visa (or Visitor Visa)
Permanent Residency (Express Entry Program)
Work Permit
Student Visa
Canada immigration offers job opportunities and better standard of life to many candidates willing to settle in a country having a stable economy. Immigration to Canada is in high demand among skilled workers, young professionals, entrepreneurs and foreign students. Read on to know about Canada immigration eligibility and Canada immigration process.
Which Visa Categories are Available to Candidates for Canada Immigration?
Work Permit – This visa category is ideal for skilled and semi-skilled workers such as truck drivers, chefs, cooks, welder, pipe fitters, construction workers, mechanics and so on. Owing to ageing population and lack of manpower to do laborious jobs, the government of Canada welcomes eligible semi-skilled and skilled workers to keep the economy running and meet demands of labour in various industries.
Canada Work Permit is an authorization granted to foreign skilled workers to work for a specific Canadian employer for a fixed tenure in a particular Canadian province. The occupation selected by the candidate should be listed in the National Occupation Classification (NOC). The Work permit is allotted for two years and can be extended after fulfilling terms and conditions by the employer and foreign skilled workers (employees).
The Work Permit is granted to candidates having valid job offer supported by a positive Labour Market Impact Assessment (LMIA). It shows that foreign skilled workers are required to run the country's or provincial economy and such workers will make positive impact in industries and various sectors.
In order to save time, money, energy and resources, candidates should always seek guidance from trusted Canada immigration consultant to create bright and stable career in Canada.
Permanent Visa – This visa grants permanent resident status to candidates and they can enjoy rights as a citizen of the country. It is one of the most popular gateways of Canada immigration. Provided for five years, the PR visa guarantees free of cost education till Class 12 and subsidized basic healthcare to PR visa holders. Candidates can secure PR visa through different migration programs and economic migration gateways. It is important to note that this visa category does not allow candidates to vote in elections or to form a political party.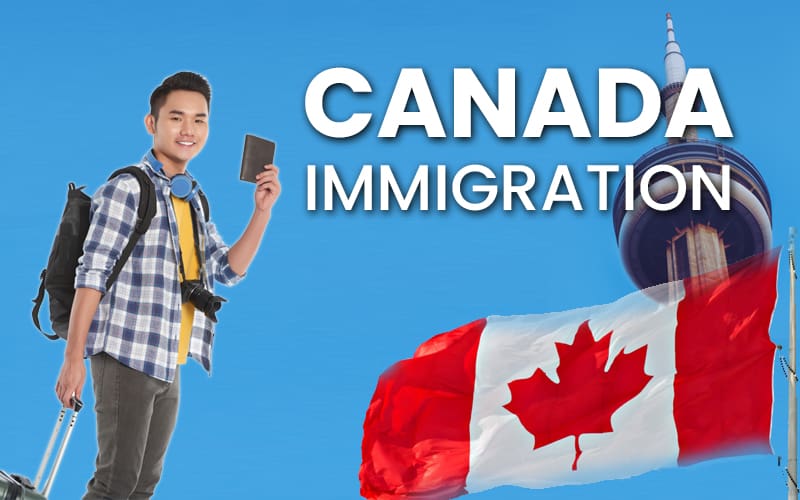 List of Canada PR Programs
Federal skilled worker program
Entrepreneur program
Investor program
Federal Skilled self employed program
Provincial nomination program
There are more immigration programs besides above-mentioned programs. Candidates should get in touch with reliable Canada immigration consultant to know more about PR visa process.
Tourist Visa – Also known as visitor or temporary visa, candidates can convert into Work Permit, provided they fulfil all eligibility criteria. It is also favoured by many Canadian employers who secured pre-approved positive Labour Market Impact Assessment (LMIA). It is important to note that the tourist visa is valid for six months. Experts consider that the skilled workers can make the most of tourist or visitor visa and get in touch with authentic Canadian employer through a trusted Canada immigration consultant. The reliable consultant can help candidates to secure LMIA work visa offered by authentic Canadian employers.
The tourist visa is also available to candidates, who would like to explore the country as a visitor. For this visa category, candidates must have enough funds to sustain in Canada for six months. Candidates must have a letter of invitation and sound medical condition in order to secure visitor or tourist visa.
Student Visa – This category is ideal for fresh graduates and international students willing to work and stay in Canada. Located in different provinces, the Canadian universities are known for research, knowledge production, skill enrichment programmes and so on. This visa category is beneficial to students, willing to pursue undergraduate and graduate programmes from a recognized Canadian academic institute or university. Completing academic programmes from recognised Canadian universities enhance job prospects in different industries and sectors in Canada. It is important to note that candidates must get an approval for admission in a recognised university and academic institute to secure student visa. After securing admission in a recognised university or academic institute, candidates can apply for visa process.
What are Advantages of Canada Permanent Residence Visa?
Various employment opportunities in different industries, sectors and domains
Good salary
Employer driven immigration programs that favour candidates
Social and economic welfare schemes
Inclusive society
Free school education
Free of cost basic healthcare facilities
Safe and secure environment
Profitable business and investment options
A Canadian passport holder can enter 172 countries without a visa, 51 visas on arrival, and 33 countries require a visa to enter their land
Which are the Most Popular Categories for Canada Immigration?
Canada immigration is mostly sought by candidates who belong to these three categories – skilled workers, businessmen (or entrepreneur) and student. Read on to know more about these categories.
Skilled workers – Canada has a shortage of skilled and semi-skilled workers in various industries and domains. The country needs foreign skilled workers in aerospace, engineering, Information and Technology (IT), accountancy, book keeping, retail, telecom, mining, agriculture and so on. The skilled workers get several benefits, including employee-friendly work policies, good salary, perks and other benefits.
International student – Canada is one of the major countries where students would like to pursue higher education and research studies. Besides imparting quality education, the universities and academic institutes in Canada offered peaceful, progressive and perfect environment for studies. International students, who complete studies from universities and colleges in Canada, get many job opportunities from globally recognised organisations and MNCs.
Entrepreneur and businessmen – In order to enhance investment and growth options in the country, the government offers many immigration programs that benefit both candidates and Canadian citizens.

Which is the Most Suitable Canada Immigration Gateway?
Out of more than 60 immigration programs, the most popular gateways are Canada Permanent Residency (PR) and LMIA based Work Permit. Candidates must crosscheck eligibility criteria for Canada immigration in order to successfully secure Canada visa.
☞ Express Entry Program – Started in 2015, this gateway is known for keeping visa applications and processing on fast track mode. Candidates are ranked on the scale of Comprehensive Ranking System (CRS), a point tool or calculator, which gives points to candidates according to details in their profile such as age, education, language proficiency, relevant work experience and training etc. The points in the CRS score calculator are calculated out of 1200. The highest and lowest qualifying scores are decided through the Express Entry Draws, which are carried out regularly. Candidates having the highest score receive Invitation To Apply (ITA), which is valid for two months.
The Express Entry program has three sub categories – Federal Skilled Workers program (FSWP), Federal Skilled Traders Program (FSTP) and Canadian Experience Class (CEC). The Federal Skilled Workers program grants visa to candidates having 67 CRS points based on age, education, skill training or apprentice, language proficiency, relevant work experience and adaptability of the candidate.
☞ Provincial Nominee Program (PNP) – Through this gateway the provincial authorities select ideal candidates to meet the requirements of labour market and industries as well as specific occupations in the region/province. The provincial authorities nominate eligible candidates having valid job offer supported by positive LMIA and allow them to migrate to the nominated province to work and stay. The PNP status helps candidates to gain extra 600 points in addition to existing CRS points in the Express Entry pool. Hence, it helps candidates to successfully secure PR status through ITA. It is important to note that each Canadian province has immigration programs based on need of skilled labour in different occupations. Candidates can remain updated for occupations and job opportunities under PNP by seeking help from immigration expert. The consultant can guide candidates about eligibility to immigrate to Canada in detail.
Some of the prominent Canada Provincial Nominee Programs (PNP) are –
Nova Scotia Immigration Nominee Program(NSNP)
Saskatchewan Immigration Nominee Program(SINP)
Ontario Immigration Nominee Program(OINP)
British Columbia Provincial Nominee Program (BCPNP)
Alberta Immigration Nominee Program (AINP)
Manitoba Immigration Nominee Program(MINP)
Quebec Skilled Workers Program (QSWP)
New Brunswick Provincial Nominee (NBPN)
Canada Immigration Eligibility
The general eligibility criteria for Canada immigration are given below —
→ Age – Candidates in the age group of 18 to 35 years gain maximum points
→ Qualification– Minimum Class 12. However, candidates having good academic records and levels get highest CRS points for ECA or Educational Credential Assessment. It is important to note that academic credentials are verified before approval of visa application.
→ Language Proficiency – Candidates having language proficiency in English is a must. A good score in IELTS ensures improved CRS score in Express Entry pool.
→ Relevant Work Experience – A good work experience record guarantees good CRS points. Work experience certificate in relevant field from previous employers or organisations prove that the candidate is trained and has ample subject knowledge.
→ Good Health – Candidates having good health condition and clean records (or no pending criminal case) get them good CRS score.
It is interesting to note that some provinces have lowered the language proficiency benchmark and number of years of relevant work experience under PNP. Candidates are advised to take help from reliable Canada immigration consultant to know province specific eligibility requirements.
Canada Immigration Process
Candidates seeking PR visa can apply in Express Entry Program or in Provincial Nomination Program (PNP).
The Express Entry Program has the following steps of processing-
 Create an Express Entry profile through online mode and receive a registration code
Candidates' applications (profile with relevant details) are allocated CRS points. Results are announced after conducting Express Entry draw
Candidates scoring highest CRS points receive Invitation To Apply
Candidates need to submit relevant documents for processing within 60 days
File PR visa application
In the case of applications submitted through the PNP, candidates are allowed to directly apply in PNP or they can be picked from the Express Entry program. The processing steps are –
Choose a province and apply under PNP
Based on the demand of occupation the applications of candidates are evaluated
Eligible candidates are nominated by the province
Candidates are allowed to apply to get PR status
Canada Immigration Processing Time
The immigration processing time for Canada depends on credentials and track records of candidates. Some other factors, including type of immigration program, case file of candidates etc play important role in processing of visa applications. The Express Entry is the fastest gateway for Canada immigration through which candidates can migrate to another country in six months if they meet all eligibility criteria. Some PNP promises fast processing of visa applications due to increasing demand of manpower in labour industries and markets in provinces like Saskatchewan and Ontario.
What are Different Steps of Canada Immigration Process?
Some of the basic steps for moving to Canada are given below –
▶ Selection of right immigration program – Candidates should seek consultant from Canada immigration expert to find right immigration program that suits their needs and future plans.
▶ Eligibility criteria – It is important to understand and fulfil all eligibility criteria to avoid cancelation or delay in processing of visa application. Error free applications are kept on fast track mode and successfully secure Canada migration.
▶ Documentation – Submission of correct set of documents in the ready to use format plays a key role in keeping visa application on fast track mode. Some of the basic documents required in the processing of applications are birth (age) certificate, academic certificates, work experience certificate, proof of funds, clean records (police verification), medical certificate (sound medical condition). Submitting these documents within deadline helps candidates to get visa at the earliest.
▶ Positive LMIA (in case of Work Permit) – A valid job offer supported by positive Labour Market Impact Assessment (LMIA), issued by the authentic Canadian employer, guarantees employment in Canada. Hence, candidates, who fulfil all eligibility criteria, have good chances of getting Work Permit at the earliest and secure PR status in future.
Relocating and migrating to Canada is an exhaustive process. Since immigration rules keep updating, especially for PNP, it is advisable to take help and guidance immigration consultant.