British Columbia Provincial Nominee Program
One of the main Canadian provinces, British Columbia offers immense opportunities to prospective applicants to work and stay in this province through British Columbia Provincial Nominee Program(BC PNP). It welcomes applicants having right skill set and knowledge who can be productive at professional front as well as contribute to the country's economy. British Columbia also attracts many international students, young graduates, entrepreneurs, investors and start up enthusiasts in order to carve sustainable career in the province.
The British Columbia PNP sends an invitation to apply to eligible candidates who have temporary visa; those who have a job offer from a designated employer in British Columbia; and young graduates willing to work and stay in province. Eligible candidates can apply for Canada Permanent residence after receiving nomination certificate from British Columbia province. This Canadian province has major industries such as hospitality, Information and Communication Technology (ICT), mining, food processing, forestry, healthcare units, and so on.
Key Highlights of British Columbia Provincial Nominee Program —

Minimum work experience of nine months to two years
Job letter required from a designated employer in British Columbia
Fast processing of visa applications
Great opportunities for skilled workers, international graduates, professionals, entrepreneurs, investors and start up enthusiasts

What Is British Columbia Provincial Nominee Program?
The British Columbia Provincial Nominee Program (BC PNP) is a collection of immigration gateways that offer eligible foreign skilled workers, professionals, immigrants, international graduates and entrepreneurs to secure Canada permanent residency status. The immigration program is operated by the British Columbia government with the help of Immigration, Refugees and Citizenship Canada (IRCC) department. The PNP is framed and designed to attract immigrants in areas which will benefit the province and meet the demands of labour markets and industries. The province of British Columbia has huge demand of skilled workers, young professionals, entrepreneurs, and investors.
The province offers immigration streams broadly divided in three categories:
British Columbia Skills Immigration
British Columbia Entrepreneur Immigration
Tech Pilot Program (Introduced in 2017, the stream welcomes tech and IT workers to British Columbia)
British Columbia PNP streams
This comprehensive immigration program is designed and framed to support economy and fulfill requirements of labour market in British Columbia. The inclusive society in British Columbia embraces immigrants, skilled workers, international graduates, young professionals from all corners of the world. The immigrants can also avail social welfare schemes run by the federal government of Canada.
The BC PNP Program offers different immigration streams to interested candidates in below-mentioned categories:
Skill Immigration – Express Entry
Skilled worker category
Healthcare professional category
International graduate category
International Postgraduate category
Entry level Semi Skilled worker category
Entrepreneur immigration
Regional Pilot
Strategic Projects category
Skill Immigration – Express Entry
Started in 2016 by the British Columbia province, the Skills Immigration Registration System (SIRS) is a point based system of selection. It allocates points to immigration seekers based on certain factors such as age, academic credential, work experience, skill, language proficiency and offer of employment. Please note that Skill Immigration BC is a separate program and has its own eligibility requirements, though the applications of candidates in the British Columbia province are aligned with the Express Entry program. This indicates that applicants should fulfill requirements of both Express Entry draw and British Columbia PNP under this category. All selected candidates by the British Columbia province also get 600 additional CRS points in the Express Entry program.
Skilled Workers Category
In order to apply under this stream, candidates must have basic educational qualification, relevant skills, at least two years of work experience, offer letter from a designated Canadian employer in British Columbia, meet all eligibility criteria, have minimum language proficiency.
Healthcare Professionals Category
British Columbia is opted by many health professionals like nurses, physicians, healthcare practitioners etc seeking to work and stay in Canada. Prospective candidates must have relevant academic credentials, work experience of two years in healthcare industry, language proficiency mark in IELTS and so on. The healthcare professionals and practitioners who can apply under this category are —
General Physician
Healthcare Practitioner
Registered Nurse
Clinical Pharmacist
Registered (Trained) Psychiatric Nurse
Physiotherapist
Diagnostic Medical Sonographer
Medical Radiation Technologist
Medical Laboratory Technologist
Occupational Therapist
International Graduate Category
This category is ideal for fresh graduates and international students willing to work and stay in British Columbia. Meant only for students, who have graduated in past three years from a recognized Canadian academic institute or university, the stream requires full-time job offer letter from a designated employer in British Columbia, fulfillment of employment criteria and language proficiency.
International Postgraduate Category
This category is apt for prospective candidates, who have received post graduate or doctoral degrees from recognised institute of higher learning in natural, applied, or health sciences in British Columbia. In order to get through visa application, aspirants must fulfill basic educational qualification, willingness to work and stay in British Columbia, sufficient funds, language proficiency, and an offer letter to work in in-demand occupation. The candidates under International Postgraduate Program should have studied one of the following topics:
Agriculture
Physical Sciences
Biological and Biomedical Sciences
Engineering and Engineering Technology
Computer and Information Sciences and support services
Applied Health Sciences and Healthcare Studies
Conservation of Natural Resources
Entry Level Semi Skilled Worker Category
Meant for semi-skilled workers or those candidates, who have just started their professional journey, this stream demands basic educational qualification, at least nine months of work experience in tourism, hospitality, food processing or long haul truck driving, language proficiency and work assignment with a designated employer at the time of evaluation of application.
Entrepreneur Immigration
This stream grants opportunities to entrepreneurs and start up enthusiasts willing to invest in a locally operated business in British Columbia or set up a fresh business. This stream also provides opportunities to both business managers and owners, if they have sufficient funds for investment and sustenance. Further, candidates can apply for Canada Permanent Residence after receiving nomination certificate from British Columbia.
Regional Pilot Category
Started in 2019, this stream applies to business owners willing to start a new business venture in a small community. The selected applicants will receive work permit and must run a business for at least 12 months. Eligible candidates must have language proficiency, a minimum personal worth of CAD 3,00,000 besides having minimum experience of three years in business management during last five years. The selected candidates should have an approved business plan that has potential to provide employment to Canadians and permanent residents. The prospective candidates should have 100% ownership of the previous business or entity.

Strategic Projects Category
Under this category, corporate and business entities are allowed to establish offices in British Columbia. The company or entities can nominate up to 5 people or officials to secure Canada Permanent Residency. Please note that the corporate and company must have strong financial background, legally viable resources, sound credibility, good track record and a proposed list of eligible candidates (workers) to secure PR. The overall worth of the company must be CAD 20,00,00,000 and a minimum equity investment of CAD 5,00,000. The company should be able to create at least three additional jobs in Canada.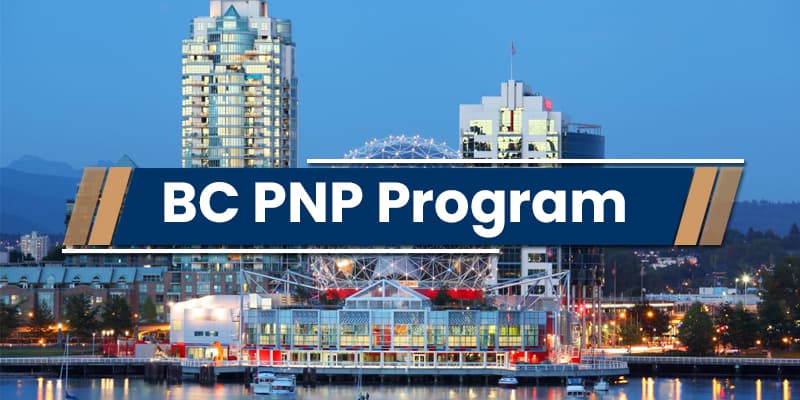 Application Procedure for British Columbia Provincial Nominee Program
The BC PNP has easy application process compared to other immigration streams. It has three key steps –
Step 1 – Secure a full-time employment letter issued by an employer based in British Columbia. The applicant should be working under the employer during the processing of visa application. Please note that job letter is not required if a candidate receives an academic degree from British Columbia University or any recognized educational institute
Step 2– Applicants will receive a score generated through British Columbia points calculator
Step 3– Profile of candidates will enter into applications' pool for selection. The British Columbia authorities will select candidates having highest points on Comprehensive Ranking System (CRS) scale.
How Many Points are Required for BC PNP?
The British Columbia PNP has two broad streams for skilled workers (including professionals) and international graduates (Express Entry BC and Skills Immigration) and an attractive immigration stream for entrepreneurs.
These streams are further divided into sub categories. The British Columbia PNP immigration streams, which are aligned with Express Entry immigration selection system, help candidates to earn additional 600 points on Comprehensive Ranking System (CRS) scale, if they successfully secure BC PNP certificate. It guarantees candidates to receive Invitation to Apply (ITA) to gain permanent residency status in next Express Entry draw.
How Can a Candidate Get Provincial Nomination in BC?
It is important to note that visa applications of candidates willing to work and settle in British Columbia are kept on fast track mode and easily get Canada permanent residency status.
Interested candidates must apply to secure provincial nomination certificate and if nominated, apply for permanent residency status to IRCC. A specific number of nominations are allotted every year by IRCC under BC PNP stream.
Some BC PNP immigration streams are managed under a unique system called Skills Immigration Registration System (SIRS). Under this system, the candidates need to create an online profile and mention personal details related to valid job offer in British Columbia, relevant work experience, language skills, and level of education and apprentice (if applicable). In this online system, registered candidates are assigned CRS score out of 200. The provincial government conducts draws regularly. The eligible candidates, who meet the cut-off threshold CRS in the given category in that draw, are invited to secure a provincial nomination certificate.
It is important to note that some BC PNP categories ask candidates to submit valid job offer from an employer located in British Columbia, while some other immigration streams except SIRS, do not require a valid job offer.
British Columbia PNP Processing Time
The processing time for British Colombia(BC) PNP program depends on several factors such as profile of candidates, immigration streams, personal and professional details of candidates. Generally, applications are assessed under British Colombia PNP in four months, while some applications are assessed in less time depending on case file and profile of applicants.
A reliable immigration consultant, Hire Indians Immigration Services, always evaluates applications of candidates as well as their personal and professional details. The consultant suggests best immigration gateway to candidates according to their personal and professional information as well as that helps their dreams of securing job and getting work permit for Canada. Since its inception, the trusted immigration consultant has been providing right guidance and suggestions to skilled workers, students, trained professionals and entrepreneurs on British Columbia Provincial Nominee Program(BC PNP) to secure Canada permanent residency status.
Several online testimonials and reviews on social media platforms of successful candidates, who have achieved career goals in Canada with the help of team Hire Indians, shows sincerity, hard work and dedicated efforts of the consultant towards helping candidates, immigrants, students and job seekers in fulfilling their dreams. Working on the motto 'help people live good life', Hire Indians Immigration Services also facilitates regular updates and trends on BC PNP and help candidates to establish bright career in Canada. Contact us NOW!