Student Visa
Studying abroad demands concrete planning, documentation, co-ordination in order to secure seats in reputed foreign universities in Canada, Australia, Singapore, Germany and United Kingdom. Interested students are advised to initiate application process keeping in mind deadlines set by university. Students are required to appear for English eligibility (language proficiency) tests as per immigration rules and keep relevant documents ready for hassle-free processing of application. Experts suggest students to apply four months in advance to secure the student visa for studying abroad in easy steps.
Determined to pursue higher studies in renowned academic institutes, many Indian students are willing to secure admission seat in foreign colleges and universities of their choice and interest. Students prefer to pursue further studies and carry out research activities in destinations (countries) such as Canada, Australia, Singapore, Germany and United Kingdom. The study abroad options or student visa also helps students to grab job opportunities after completing studies in the country and university of their choice. In fact, in some cases reputed organizations and agencies hire talented and meritorious students through campus placement and support their work visa applications. Hence, foreign study visa to study in foreign country and universities open the doors to create bright career and stable future.
Every country has its own eligibility criteria for student visa for studying abroad that are in sync with immigration rules of respective nations. The journey to study abroad under student visa starts with identifying country, academic course (modules and curriculum), university, academic institute that match students' interest and expectations.
Students are advised to secure a Letter of Acceptance from recognized university or academic institute before applying for the student visa for studying abroad. The visa is valid till the completion of academic course. The student visa for studying abroad should be renewed (at least 30 days in advance) if it expires before the completion of course.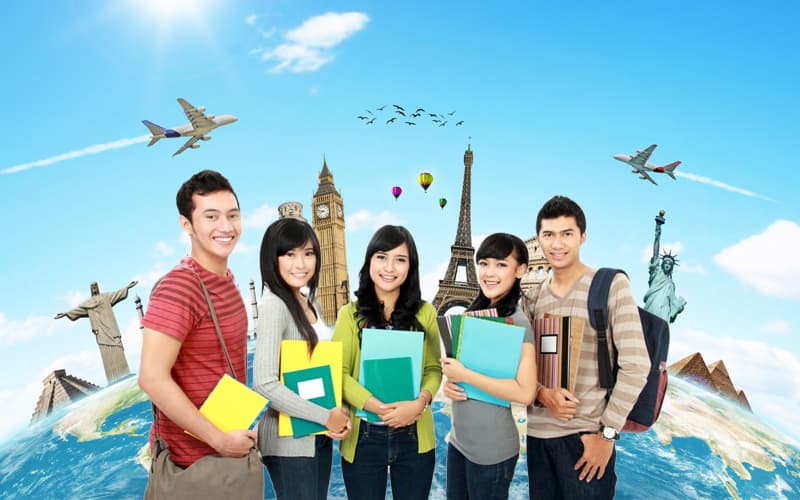 Most of the countries allow international students (graduates) to either work on-campus or off-campus (part-time). Students are allowed to work 20 hours a week on student visa. Moreover, family members of students are also allowed to stay with them provided they have Dependent Visa. The members of family are not allowed to work except those having a valid work permit. Read on to know more about student visa for abroad, requirements by specific countries and mandatory processes.
Why Study Abroad on Student Visa?
Completing higher studies from foreign universities or securing foreign study visa to study in other countries enhance chances of students to get good career and job opportunities. Such students are usually paid more as compared to their Indian counterparts. Besides earning a degree, they also get opportunities to work in the country where they studied at higher level.
The study abroad options under student visa help students to gain more knowledge, experience, skills and learning, which really paid them in life and career.
In fact, many MNCs and organisations prefer hiring students having a global outlook, training and exposure to build an efficient workforce. Foreign study visa always expand people network, provide knowledge about international affairs and give a platform to work in reputed firms and MNCs.
Study abroad options under student visa also help students to better their communication and behavioural skills apart from academic knowledge. Students learn an additional (foreign) language while residing in foreign university campus and country. Knowledge of a foreign language boosts chances of students in work places and also fills them with confidence and conviction.
Type of Student Visa
The type of student visa depends on the requirements of applying country. The study abroad options under student visa are categorized based on below-mentioned factors:
Duration of academic program: Short-term visas (valid for 90 days). Interested candidates wish to pursue short or diploma courses apply in this category.
Nature of academic program and profile of students: Some countries grant student visa for study according to nature of program like undergraduate program, graduate program, doctoral and post-doctoral programs, exchange student, and so on.
Canada Student Visa
Canada offers only single category student visa or study permit. The federal government of Canada grant student visa to prospective students who fulfill below-mentioned criteria:
Acceptance of admission by a Designated Learning Institute (DLI) in Canada
Willingness to study in Canada
Police clearance certificate
Medical certificate
Enough funds
Please note that any false declaration or discrepancies in submitted details will result into rejection of application and authorities may bar applicants' entry to Canada.
Mandatory Documents For Canada Study Visa
Here is a list of documents required while applying for Canada study visa:
College acceptance letter or proof of acceptance from DLI
Valid passport
Educational certificates
Language proficiency score (IELTS)
Statement of Purpose
Visa application form
Medical certificate
Police clearance certificate
Passport size photographs
Proof of funds
Read in Detail – Canada Study Visa
Australia Study Visa
Also termed as Subclass 500, the Australian student visa is granted to students based upon nationality, selected Australian University, nature of academic course (full-time study), sound medical condition, sufficient funds and so on.
Mandatory Documents for Australia Study Visa
Valid passport
Confirmation of Enrolment form from Australian university
Non-immigrant visa application
Application fee payment receipt
Non-immigrant visa application
Statement of Studies
Educational certificates
Language proficiency (English language test score)
Statement of purpose
Sufficient funds
Overseas health insurance (OSHC receipt)
Passport-sized photographs of student
Application Process of Australia Study Visa
Create online account
Submit personal and academic details in visa application form
Submission of form
Receive Transaction Reference number to track application online
Receive online notification after selection of candidates
Key Details Related To Subclass 500:-
Student visa does not allow students to work before commencement of academic courses
Only post graduate students are allowed to work for unlimited hours on this visa
Students can apply for a post-study work permit undergraduate stream
Read in Detail – Student Visa to Study in Australia
Study Visa for Germany
The country grants student visa for studying abroad only to interested candidates, who wish to pursue course that has duration of at least 90 days. Interested students must have sufficient funds or resources for sustenance in Germany during this duration.
Mandatory Documents for Germany Study Visa
Valid passport
Application form
Self declaration verifying authenticity of details and credentials
Cover letter
Letter of Admission issued by a University in Germany
Academic certificates
Language proficiency (English language proficiency test score)
Enough funds
Passport size photographs of students
Germany Study Visa Application Process
Secure admission in a University in Germany
Make a file of relevant documents after screening them thoroughly
Fulfill biometrics requirements
Fill Application form for National Visa
Submit signed application form along with supporting documents
Submit signed Declaration Form
Appear for visa interview at German Embassy
Prepare Demand Draft (DD) for the visa fee
Submit DD at the time of interview
Read in Detail – Germany Study Visa
Study Visa for the United Kingdom
The United Kingdom welcomes interested students planning to pursue undergraduate and graduate academic courses. Also known as Tier 4 in official language, this student visa for studying abroad is points based. Interested students must secure 40 points in order to apply Tier 4 visa. Please note that 30 points are allotted to candidates for having a valid confirmation letter from a University in UK and ten points are marked for proof of funds.
Types of UK Study Visa
There are two types of Tier 4 visas:
1. Tier 4 (General): This visa is granted to students, who are 16 year or above in age. If the University (approving admission to students) fall under UKBA Sponsor List or list of recognized academic institutes, students are allowed to work for 20 hours per week (maximum) and full-time during vacation and holidays.
2. Tier 4 (Child): This visa is granted to students in the age group of 4 to 15 years. Students in this category are admitted only in independent schools run by private entities.
Mandatory Documents for UK Study Visa
Fill visa application form
Secure Letter of acceptance (CAS from the recognized University in UK)
Academic certificates
Sufficient funds
Receipt of visa fee payment
Language proficiency score
UK Study Visa Application Process
Ensure eligibility
Prepare documents listed for Tier 4 visa
Apply online
Pay application fee
Get appointment at visa application centre
Attend orientation at visa application centre
Submit photographs and fingerprints of students
Read in Detail – UK Study Visa
It is important to note that the eligibility criteria may differ for different study programs in academic institutes, colleges and universities in various countries. Experts suggest interested students to refer academic websites of institutes, colleges and universities for updated, correct and relevant information on academics and eligibility criteria. Alternatively, interested students, who are seeking student visa for abroad study, can get in touch with best immigration consultant to receive right guidance on subjects of study, immigration channels/gateways, eligibility criteria, processing time and so on.
Hire Indians Immigration Services helps and guides interested students to select right immigration gateways based on their personal and professional credentials as well as that helps them to achieve their dreams after completing studies in countries and universities of their interest. Contact us now!