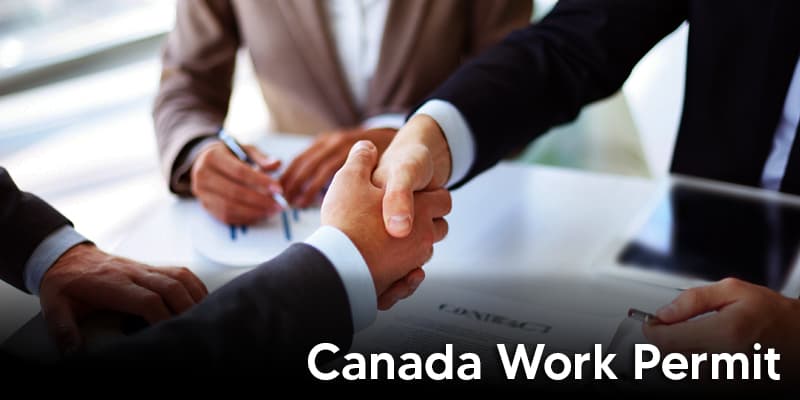 The Canada Work Permit visa for Indians give them an opportunity to work as foreign skilled workers for specific duration under a Canadian employer. The skill trade or occupation selected by the candidate should be listed in the National Occupation Classification (NOC), which is a system to classify jobs. The Canada work permit for Indians is granted for a period of two years and it can be extended depending on terms and conditions to be fulfilled by Canadian employer and foreign skilled worker.
Candidates can either apply online or offline application along with required documents. It is important to note that candidates must secure a valid job offer supported by Labour Market Impact Assessment (LMIA) from authentic employer in order to get Canadian work permit from India. Read on to know more about Canada work permit visa for Indians.
The work permit is an authorization granted to foreign skilled workers in order to work and stay in the country for a fixed time period. Granting Canada work permit helps Canadian employers to hire efficient and right candidates as well as meet demands of labour markets and industries in different Canadian provinces.
It is interesting to note that every year around 300,000 foreign skilled workers get Temporary Foreign Worker Work Permit, also called W1 Worker Visa. Getting a Canada work permit is a lengthy process, hence experts suggest to seek help from trustworthy immigration consultant to makes the process easier to understand and secure work visa in hassle-free manner.
Eligibility Criteria for Canada Work Permit for Indians
In order to have Canada work permit application on fast track mode, candidates must prepare crosscheck eligibility criteria from reliable immigration consultant before starting processing of application. The list of required documents for easy filing of Canada work visa are given below –
Complete visa application form
Valid passport
Valid employment (job) offer from authentic Canadian employer
Letter of invitation
Copy of LMIA
Relevant work experience certificate
Salary slips of last six months
Language proficiency score (IELTS)
Medical exam certificate
Age proof
Educational certificates
Sufficient funds
Canada Work Visa Process for Indians
Based on skill, knowledge, training, language proficiency and relevant work experience of candidates, application for work permit is evaluated to check eligibility. Please make a note that only eligible candidates can start application processing through online or offline mode along with submission of required documents.
It is important to note that foreign skilled workers visa applications must be supported by necessary documents like job reference letter from previous employers during last ten years.
Candidates have to pay the required visa fee, which is non-refundable, in order to process the visa application. The Immigration, Refugees and Citizenship Canada (IRCC) may call candidates for face to face interview at offices in Delhi, Chandigarh, Kolkata or Mumbai. The application processing is done in three to four months for Indian skilled workers.
Online Application – The work visa applications can be filed directly in IRCC's website – www.canada.ca to complete registration
Offline Application – The work visa applications can be carried in paper mode through Canada Visa Application Centre (CVAC) managed by VFS Global in various Indian cities, including New Delhi, Chandigarh, Mumbai, Pune, Jalandhar, Chennai, Kolkata, Hyderabad and Ahmedabad.
Canada Work Permit Categories
Canada Work Permit can be secured by candidates, who belong to these categories –
Temporary workers – Canada offers Open Work Permits and Employer-specific Work Permits based on the skills, knowledge, training and nature of work done by the candidate. In most of the cases, temporary foreign skilled workers are allowed to change or extend their Canada work permit after fulfilling eligibility criteria.
➡

Open Work Permit

– It allows candidates to work for any employer in Canada, except for employers who have failed to follow government regulations. The Open Work Permit is only granted in specific conditions.
➡

Employer-specific Work Permit

– It allows candidates to work according to their education, work experience and skills. The work permit is granted on basis of type of employer offering job opportunity to candidate, duration of job opportunity and province or work location.
Business – This category of work permit is granted to candidates, who are business visitors, interested to take over established business in Canada, traders, entrepreneurs, investors and start up enthusiasts.
Permanent workers – This category of work permit allows foreign skilled workers to work and stay in Canada. Candidates can apply through express entry program.
Students – After fulfilling certain conditions, international students are allowed to work part time on-campus or off-campus. They are allowed to take up internship opportunities and projects. Also, graduated students are allowed to either apply for a post-graduation work permit or migrate to Canada permanently through Express Entry.
Agricultural workers – This work permit category only allow candidates, who are hired through the Seasonal Agricultural Worker Program (SAWP).
International Experience Canada – Only eligible candidates are allowed to get work permit in the International Experience Canada (IEC) pool.
Importance of Canada Work Permit
➡ Candidates receive employment (job) offer letter from Canadian employer supported by Labour Market Impact Assessment (LMIA) issued by Employment and Social Development Canada (ESDC). This saves candidates from monetary, physical and mental trauma of securing job in Canada as well as wasting time on fake immigration consultants, who only intend to take money from candidates
➡ Receiving valid employment (job) offer letter beforehand assures candidates and families about work and stay provision in Canada. The work permit offers bright future, growth, financial gains, free basic education for children, premium healthcare facilities, safe and secure surroundings and many more social benefits.
Additional Benefits of Canada Work Permit for Indians
Work Permit is granted to candidates, who are willing to work in Canada for a particular period of time for a specific Canadian employer in a particular province. After working in Canada for some years foreign skilled workers and professionals can also apply for Permanent Residency (PR) status. This ensures additional benefits offered by Canadian government to candidates.
Candidates having PR visa can avail various social benefits, access basic healthcare facilities free of cost, have free education till Class 12 for children, safe and secure surroundings, welfare schemes and so on.
Application Fee for Canadian Work Permit
The application fee for the processing of work permit application has to be paid by the candidate. The non-refundable application fee may change every year and the amount of fee depends on nationality, visa category, application methods of the candidate. Candidates can deposit application fee through online or offline mode depending on their convenience. It is important to note that processing of applications through VFS Global requires additional fee and service charge.
The application fee for processing of Canada work permit is mentioned below:
| | |
| --- | --- |
| Application Category | Canadian Dollar |
| Work Permit (including extensions) – per person | 85 CAD |
| Work Permit (including extensions) – group of performing artists (3 or more) | 170 CAD |
| Open Work Permit holder | 255 CAD |
Securing Work Permit includes many rounds of counseling, evaluation, application processing, documentation and co-ordination with the concerned authorities. It is suggested by experts to take help from reliable immigration consultant to ensure smooth processing of Canadian work permit visa for Indians.
Things to Check With Immigration Consultant for Canada Work Permit
Candidates must confirm following three documents with Canada immigration consultant in order to secure work permit from India for Canada-
Immigration consultant must have copy of Labour Market Impact Assessment (LMIA) by the Canadian employer seeking approval of hiring skilled professional from other countries.
Proof of recent visas/ applications filed by consultants. Candidates must crosscheck recent visas/work permit applications filed by the consultant in last two years.
List of references and contact numbers of people, whom consultants helped to secure work opportunities in various domains in Canada.
Testimonials of successful candidates, who sought help from immigration candidates, are highlighted in consultant's websites and on social media handles.
Trustworthy consultant always have good reviews by clients and successful candidates, whom the consultant helped in securing work permit
Why us?
Hire Indians Immigration Services always evaluates candidates' applications before starting processing visa application. It also guides candidates to choose the best suitable immigration pathways as per needs of candidates. Contact Us NOW!