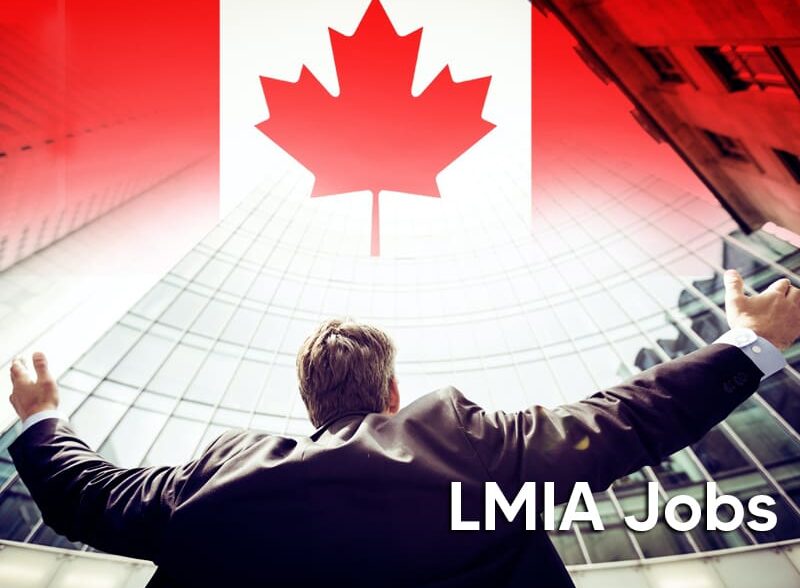 The Canadian work permit, or Temporary Foreign Worker Program, is known for providing job opportunities in various domains and industries in the country. The Labour Market Impact Assessment or LMIA jobs are a reliable route to work and stay in Canada.
What is LMIA?
The Labour Market Impact Assessment (LMIA) is a document that must be secured by Canadian employers before hiring a foreign skilled worker. It is issued by Employment and Social Development Canada (ESDC) after ensuring that there is a need to hire foreign skilled worker to fulfill needs of labour market. The positive LMIA shows that no Canadian citizen and residents are available to fill the job vacancies. A positive LMIA is sometimes called confirmation letter.
The ESDC also makes sure that hiring a foreign skilled worker will not have a negative impact on the Canadian labor market and employment sector. The Canadian employers must provide information to ESDC about the position for which they want to hire a foreign worker, the number of Canadians applied for the vacancy, the number of Canadians interviewed by the Canadian employer, and detailed explanations for why the Canadian residents and citizens were not hired by the employer.
This shows that LMIA jobs are safe and secure and provides opportunities to foreign skilled workers to create bright career in Canada.
What are Requirements for LMIA Jobs – For Candidates
Education – Class 12 (minimum)
Relevant work experience of two years (minimum)
Required IELTS score
Sufficient funds
Other mandatory criteria for work permit visa
What are Requirements for LMIA Jobs – For Canadian Employers
The Canadian employers must advertise job vacancies in the Canadian job market through various publications, online medium, job sites and employment boards for at least one month before applying for an LMIA
Canadian employers must prove that they have used various hiring methods and platform like Canadian Job Bank website in order to fill the job vacancy
Canadian employers must prove that they will be assisting foreign skilled worker to apply for Canadian permanent resident visa during employee's transition from home country to Canada
Canadian employers must mention all criteria and work conditions in the job offer or employment letter supported by copy of positive LMIA. This will ensure better understanding of conditions of work and contract by foreign skilled workers.
Canadian employers must hire foreign skilled workers for occupations listed in National Occupational Classification (NOC) list
What is the Application Fee For LMIA?
The application fee for LMIA requests is 1000 CAD (Canadian dollar) per worker.
Is There any Categorisation in LMIA Jobs?
The LMIA jobs can be broadly divided into two groups – high wage and low wage. The occupations and jobs that have offer equal or more salary of the average wage in the Canadian province, where employee will work and stay, are called high wage jobs. If the job and occupation offers salary less than the average wage in that Canadian province, then it is called low wage.
In case of high wage jobs and occupations, the applications are processed on fast track mode. Foreign skilled workers and professionals in skilled trades, high salaried workers with salaries in the top 10% of Canadian earnings, and foreign skilled workers coming for 120 days or less generally receive Canada approved LMIA jobs or job offers as soon as possible
It is important to note that positive LMIA for low-wage jobs allow the Canadian employers to hire foreign skilled worker for specific period or number of years to meet the demand of labour markets and industries
Is Language Proficiency Compulsory for Foreign Skilled Workers Having Good Work Experience to Secure LMIA Jobs?
Yes, Canadian Language Benchmark (CLB) has to be produced by candidate or foreign skilled workers in order to work and stay in Canada. The relevant work experience is bonus point, but required score in International English Language Testing System (IELTS).
It is interesting to note that some Canadian provinces have lowered the Canadian Language Benchmark for certain occupations. This increases the chances for foreign skilled workers, whose applications have been pending for processing due to less score in IELTS.
What is the Set of Documents Required to Get LMIA Jobs?
In order to get LMIA approved jobs in Canada from India, interested candidates must prepare a checklist of documents to be submitted in ready to use format. Experts suggest candidates to get in touch with trusted immigration consultant like Hire Indians Immigration Services to understand eligibility criteria before starting processing of application. The list of required documents for filing of work permit applications in order to secure LMIA offer are given below –
Complete visa application form
Valid passport
Valid employment (job) offer from authentic Canadian employer
Letter of invitation
Copy of positive LMIA issued in the name of candidate by authentic Canadian employer
Relevant work experience certificate (to be submitted by candidate)
Salary slips of last six months
Language proficiency score (IELTS)
Medical exam certificate
Age proof
Educational certificates
Sufficient funds
What is the Benefit of Getting LMIA ?
The positive LMIA confirms that there is a need of foreign skilled worker in Canada to meet demands of labour market as well as various industries and domains. Since no Canadian citizens and residents are available to fill these vacancies, ESDC allows Canadian employers to hire foreign skilled workers to be able to run the economy efficiently. Owing to its ageing population and majority of workers close to the retirement stage, Canada immediately requires skilled workers in various industries and sectors. Hence, the country continued its immigration programs even during pandemic and is under 2021-2023 immigration plans it aims to grant over 400,000 permanent residents every year. This target is higher than the earlier immigration target of the federal government of Canada.
Clearly, the country's focus is economic growth and different immigration programs, LMIA approved jobs and work permit are supposed to boost the country's economy. The role of foreign skilled workers is very important in this regard. Canadian employers aim to reach the next level of production and service sectors by hiring foreign skilled workers and offering them jobs that are LMIA approved.
Some of the advantages of LMIA are listed below –
Candidates receive valid job offer from Canadian employer supported by Labour Market Impact Assessment (LMIA) issued by Employment and Social Development Canada (ESDC). This legal document assures candidates of having a platform to create bright future in Canada. It also helps many candidates avoid wasting time on fake immigration consultants, who only ask them to deposit money in the name of processing of application.
Receiving valid job offer along with LMIA assures candidates about work facilities and stay in particular Canadian province. Experts suggest that the Canada work permit guarantees good growth, monetary benefit, free basic education for children, promising future, world class healthcare facilities, safe and secure living environment and many more social benefits.
The LMIA jobs that are approved are offered to candidates, who are willing to work in Canada for a particular period of time for a specific employer in a particular Canadian province. After working in Canada for some years, foreign skilled and semi-skilled workers are allowed to apply for Permanent Residency (PR) status. This is one of the huge benefits of the LMIA job.
The country offers a range of benefits and services to candidates having Permanent Residence visa. They can avail several social benefits, can avail basic healthcare facilities free of cost, can get education till Class 12 free of cost for children, live in safe and secure surroundings, avail a range of welfare schemes among other services and facilities.
What are the Ways to Get LMIA Jobs in Canada From India?
It is important to note that the first step to secure LMIA jobs from India is to seek support from work visa consultant. The consultant evaluates applications of candidates before counseling and guiding them about the best immigration pathway that suit their needs. Since its inception, the consultant has been supporting and guiding many candidates on immigration and work permit or LMIA jobs in order to have them better future.
The successful candidates backed by Hire Indians Immigration Services have given good reviews. These proud candidates credit their success to team Hire Indians for counseling and supporting them at every step of processing and documentation of Canada work permit visa.
Get Guidance From Hire Indians Immigration Services
Hire Indians Immigration Services assesses applications of candidates and explains them eligibility criteria for LMIA and work permit. It also clarifies candidates about the best suitable immigration gateways that meet requirements of both candidates and Canadian employers. This trusted immigration consultant is known to provide correct guidance and right suggestions to candidates on work permit. Contact us NOW!