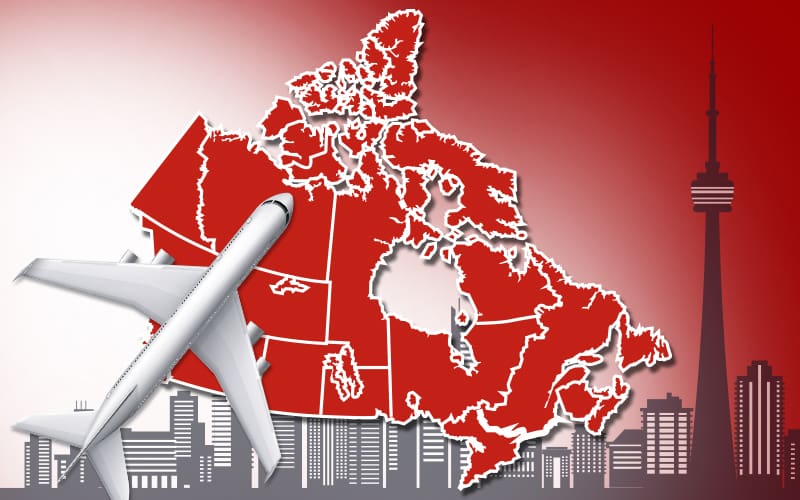 The year 2020 was hit by COVID 19 pandemic, but it did not make a dent on Canada immigration. Under Provincial Nominee Programs (PNP), the Canadian provinces kept welcoming skilled workers, professionals and immigrants throughout the year and fulfilled demands of labour markets and industries. Hence, PNP and Express Entry streams played important roles in strengthening migration to Canada.
What is PNP?
Canada's Provincial Nominee Program (PNP) is jointly conducted by the federal and provincial governments. The PNP streams allow various provinces and territories to frame and design province specific immigration streams in order to fulfil needs of labour markets and industries, hence boost growth and development in the province. The PNP also targets to spread different social and economic welfare schemes for citizens, residents and immigrants across Canada.
Launched in 1998, the PNP also aims to help skilled workers, professionals and immigrants to settle in different Canadian provinces, particularly in regions that are less populated.
It has been noticed that many Canadian provinces such as Manitoba, Saskatchewan, Prince Edward Island, Nova Scotia, Newfoundland and Labrador and New Brunswick depend on PNP to meet needs of labour industries and handle shortage of workforce in various domains and sectors.
How do PNP Works?
The PNP streams are framed and designed to welcome forign skilled workers, professionals and immigrants of different skill sets. Administered by province, the PNP allows immigrants, who fulfil all eligibility criteria, by granting them provincial nominee certificate that allows candidates to apply to Immigration, Refugees and Citizenship Canada (IRCC) (External link) for permanent residence status.
It is interesting to note that many Canadian provinces have at least one PNP stream aligned with the federal Express Entry stream, which invites huge number of professionals, skilled workers and immigrants to Canada.
Express Entry-aligned PNP streams are also called 'Enhanced' PNPs. This arrangement allows Canadian provinces to select eligible candidates from Express Entry pool and invite them to apply for a provincial nomination. It is important to note that candidates from Express Entry pool candidates, who got nominated by a Canadian province, earn extra 600 Comprehensive Ranking System (CRS) points that make them eligible to receive Invitation To Apply (ITA).
Different PNP streams also nominate candidates (immigrants), who are allowed to apply for permanent residence outside the Express Entry stream.
The IRCC decides the allocation of nominations on yearly basis based on its annual immigration level planning and consultations with different provinces.
Province Specific PNP Highlights In 2020
Ontario
Ontario's Immigrant Nominee Program (OINP) issued 8,050 nominations this year across all streams. This number is more than PNP issued by the province in 2019.
Ontario's three Express Entry-linked nomination streams viz Human Capital Priorities, French-Speaking Skilled Worker and Skilled Trades have issued over 9,000 invitations to profiles in Express Entry pool in 2020.
Recently, the province announced that it may introduce an expression of interest system in 2020.
Alberta
Alberta issued 4,000 nominations as part of its economic recovery plan in 2020. The province achieved its target on December 21, 2020 and announced that new nominations will be issued in 2021.
Alberta also announced launching of two new immigration streams for international graduates (students). These streams are International Graduate Entrepreneur Immigration Stream and Foreign Graduate Start-up Visa Stream.
The province also launched an online portal to receive applications of immigration and job seekers under the Alberta Immigrant Nominee Program (AINP).
Saskatchewan and Manitoba
Saskatchewan and Manitoba are considered as the top two beneficiaries of the PNP in 2020. Both provinces continued attracting professionals, skilled workers and immigrants and were able to retain them as well under respective PNP streams.
Saskatchewan has two streams that are ideal for international applicants – Saskatchewan Express Entry stream and the Saskatchewan Occupation In-Demand stream. It issued around 8,000 invitations to apply for a provincial nomination in as many as 30 draws.
Manitoba issued over 5,000 invitations in more than 20 draws through each stream. The province also issued nominations in three streams Skilled Workers in Manitoba, Skilled Workers Overseas and International Education Stream.
British Columbia
The British Columbia Provincial Nominee Program is one of largest provincial nominee programs in Canada. It is important to note that the province invites top-scoring provincial candidates on a weekly basis. Candidates were selected under different streams such as Express Entry British Columbia, Skills Immigration, Entrepreneur stream and Tech Pilot. The province invited more than 9,000 skilled workers, professionals and immigrants to apply for a provincial nomination.
Nova Scotia
Nova Scotia approved 3,517 applications, more than 3,292 applications it was allocated by the federal government in 2020. The provinces focused on inviting skilled workers and professionals related to essential services, like health care, trade, cargo and transportation. It is important to that Nova Scotia is the only province in Canada that approved record number of invitations in order to revive economy; enhance growth and development as well as support population growth plans. The province announced that out of the approved 3,517 applications, 1,617 are from Atlantic Immigration Pilot Program (AIPP) and 1,900 belong to Nova Scotia Nominee Program.
A Year Of Growth for Express Entry Stream
Despite facing travel restrictions due to COVID 19 pandemic, the Express Entry stream witnessed growth and expansion in Canada immigration. The Immigration, Refugees and Citizenship Canada (IRCC) conducted 36 invitation rounds in 2020, which is 10 rounds more than year 2019, in the early weeks of March and April. The IRCC held draws particularly for CEC and PNP candidates in order to accommodate Express Entry candidates, who were already in Canada at that time.
What is Express Entry System?
The Express Entry System is a point-based system that selects online applications (also called Expression Of Interest) of candidates. Administered by Immigration, Refugees and Citizenship Canada (IRCC), Express Entry facilitates applications for three of Canada's federal economic immigration programs for skilled workers and professionals. These immigration programs are —
Federal Skilled Worker Class (FSWC)
Canadian Experience Class (CEC)
Federal Skilled Trades Class (FSTC)
It is important to note that Express Entry system invites candidates who score 470 and above CRS points in the Express Entry pool for permanent residence status. The online profiles of candidates are evaluated on basis of age, education, language skills, work experience, valid job offer or Arranged Employment Offer (AEO), certificate of nomination issued by a Canadian province and other factors. The Express Entry system is one the fastest mode of Canada immigration. Eligible candidates are able to get PR visa within six months.
In 2020, Canada issued as many as 107,350 Invitations to Apply (ITAs) to Express Entry candidates. Since its introduction in 2015, this was the highest number of ITA issued under the Express Entry system. These invitation were issued to the pool of candidates seeking immigration under Canada's three Federal High-Skilled immigration programs —Federal Skilled Worker Program (FSWP), Federal Skilled Trades Program (FSTP) and Canadian Experience Class (CEC) as well as some of the Provincial Nominee Programs (PNP).
In 2020, Express Entry System broke records in terms of both biggest and smallest draws held so far. The smallest draw was a PNP only draw conducted on April 15, in which only 118 invitations were issued to candidates. In second half of 2020, Canada started issuing 5,000 ITAs in a single draw. The increase in draw sizes may be done in order to achieve next year's immigration target of 401,000 new permanent residence status. It is important to note that candidates, who apply for permanent residence after receiving an ITA, are allowed to apply for PR in six months. Hence, candidates, who have received ITAs after October and November Express Entry draws will receive permanent residence status in 2021. The validity of ITAs for six months will remain intact in such cases.
Out of the 401,000 new skilled workers, professionals and immigrants the country is expecting in 2021, Canada has allocated 108,500 invitations to come through Express Entry-managed program in 2021. The number of applications will increase in coming years and may reach 113,750 in 2023.
Due to the low admission levels Canada in 2020, the number of applications has witnessed an increase. Travel restrictions faced by many due to COVID 19 pandemic made landing in Canada impossible or delayed by few months.
Comprehensive Ranking System
The benchmark of Comprehensive Ranking System (CRS) score is determined by number of top-scoring candidates in Express Entry pool. It is important to note that date and time of filing online profile (application) is a factor when IRCC applies the tie-break rule to candidates who are tied for the minimum CRS points.
The lowest CRS score in 2020 was 415, and it was a FSTP draw. The lowest CEC score requirement was 431 on June 25. The benchmark CRS score dropped to 468 on December 23 for an all-program draw. Express Entry System last witnessed such a low in CRS score requirement for an all-program in October 2019.
The IRCC simply issues ITA to top scoring candidates in all-program draws. It is important to note that PNP-specific draws have higher score requirements because the provincial nominee certificate helps candidates to earn additional 600 points toward their CRS score.
Canadian Experience Class draws have lower score requirements since candidates do not compete with other high-scoring candidates in the FSWP or the PNP. The Federal Skilled Trades Program (FSTP) draws have low CRS points because Canada only invites only few candidates in a single draw.
Road Ahead for Express Entry System in 2021
In order to achieve immigrations targets for 2021, Canada need to approve approximately 8,946 applications in Express Entry pool per month. This also means that the IRCC needs to conduct at least two draws per month in order to invite about 4,473 candidates.